31 of the Most Popular Beaches in California (And the 4 You Really Don't Want to Miss!)
With over 420 beaches in California, how do you choose which beaches are worth visiting and which aren't? Many of the lists of the world's best beaches go over the top 10-20 most popular beaches in California. We compiled a list of California's 31 most popular beaches and what makes them worth visiting depending on your interests! This way, you can choose which beaches are top of your list!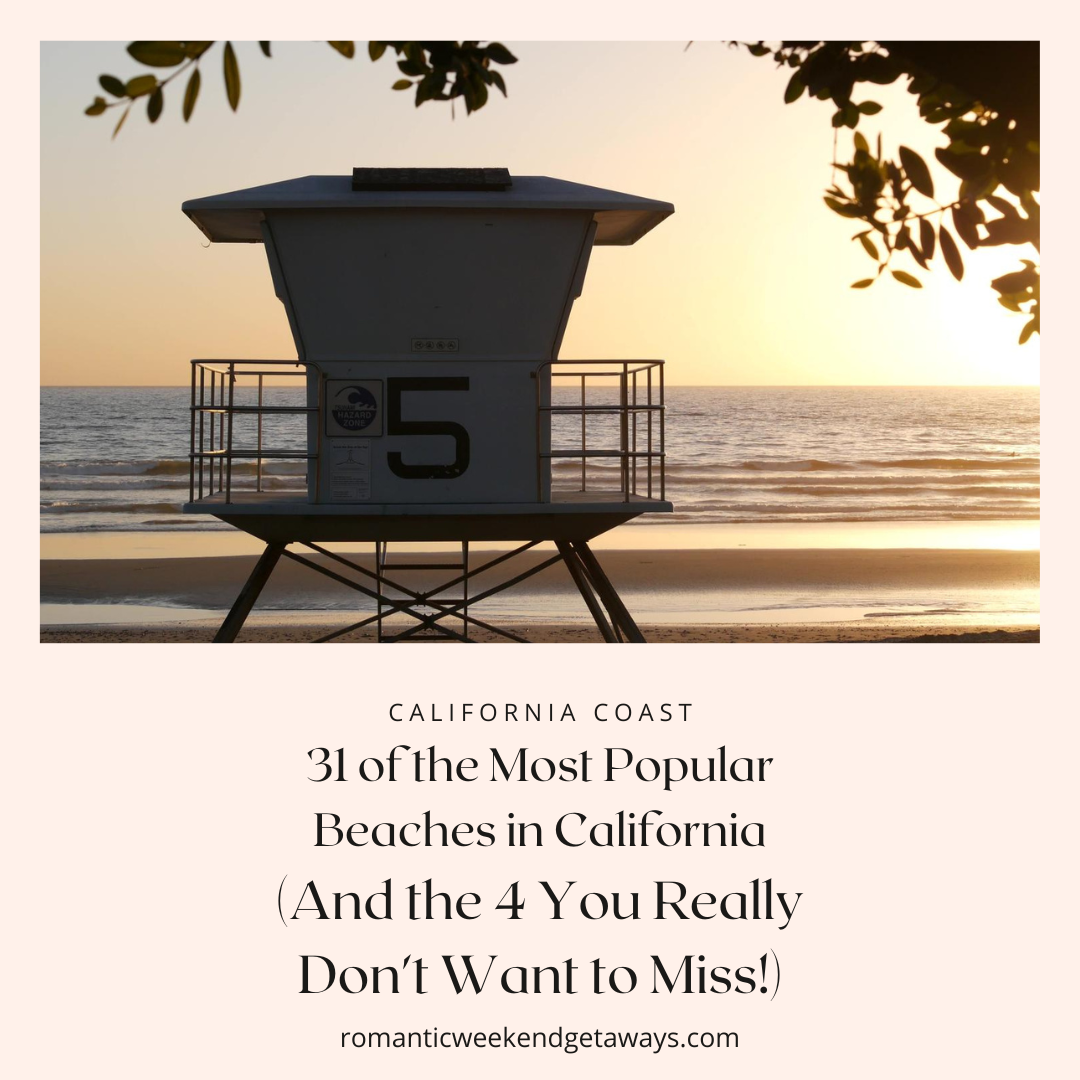 Table of Contents 👇
When you plan your romantic weekend getaway, it's important to find the perfect spot. The best beach for scuba diving might not be the best beach for relaxing and watching sunsets. However, this list will give you a great idea of which California beaches you should add to your list and which ones you don't have to feel bad about skipping. Your romantic beach weekend awaits!
Let's check out the most romantic beaches in California!
31 of The Most Popular Beaches in California
Capitola Beach
At the north end of Monterey Bay, you'll find the sandy beach of Capitola. It's a lovely little beach that attracts many tourists due to its Italian vibe. The Capitola Venetian hotel is a quant hotel characterized by charming multi-colored units, making it the perfect beach backdrop.
The south-facing beach has a pier, and its calm waters are great for fishing. While on the west beach, many visitors enjoy surfing! Whether you're making a trip to Capitola for fishing, surfing, or just to stroll around the charming beach community, it's definitely worth visiting!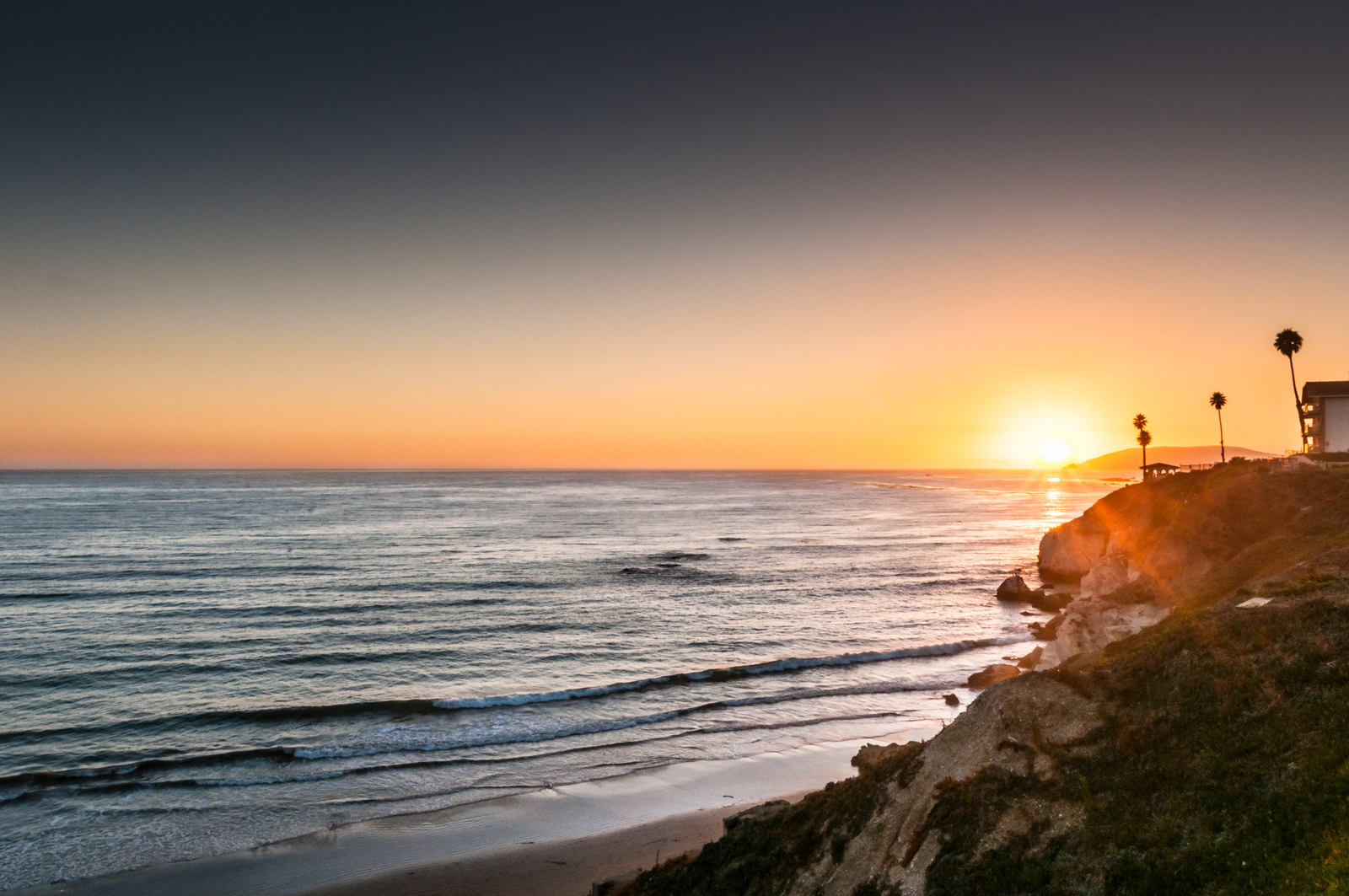 Pismo Beach
Located on Central California's Coast along the Pacific Coast Highway, Pismo is known for its fabulous wineries and lovely beaches. If you visit at the right time, you'll see the gorgeous Monarch Butterflies that migrate from the Monarch Butterfly Grove. Pismo garners its popularity from its annual Clam festival and is known as the Clam Capital of the world. The quaint beachside city of Pismo has lovely expansive views of the Pacific Ocean, making it a great spot to check out.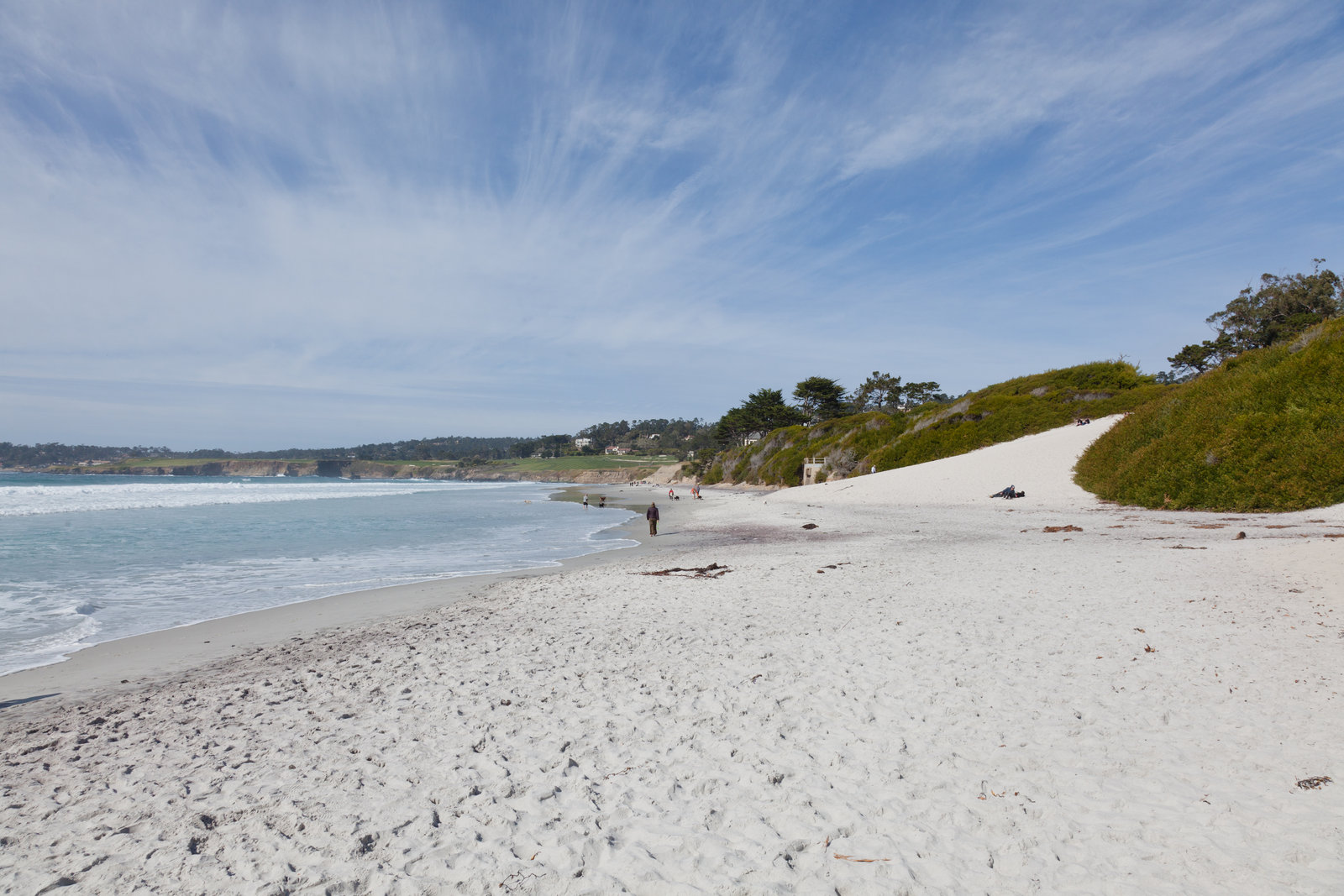 Carmel City Beach
Carmel-by-the-Sea is one of California's top beach towns, and for good reason. This charming beach town feels like it's right out of a storybook. It's perfect for a romantic weekend getaway or a day trip. You'll find quaint shops, unique dining experiences, entertaining activities, and of course, picturesque beaches! If you get the chance, you should take a trip to Carmel City Beach! If you need help planning your romantic weekend getaway to Carmel-by-the-Sea, we've got you covered!
Laguna Beach
Laguna is a small coastal city in Orange County, California, known for its art galleries, beaches, and coves. You'll discover tide pools, great surfing, and a boardwalk that takes you to the gardens of Heisler Park. Laguna Beach has beautiful ocean views and a variety of watersports to keep you and your partner busy! Plus, there's a great network of trails to hike, bike, and run through. It's perfect for the outdoorsy couple looking to explore a breathtaking location on the California Coast.
La Jolla
La Jolla is yet another beautiful stretch of coast. With calm waters and well-patrolled beaches, this is a perfect spot to relax and enjoy some of nature's beauty. Although if you happen to be an adventure seeker, there are opportunities to go snorkeling with leopard sharks or kayaking through sea caves! Depending on what you're looking for, La Jolla Beach might be the perfect place to adventure! You'll also find many upscale hotels, restaurants, and shops in the area. There's even a world-class research aquarium! La Jolla definitely has a lot more than just gorgeous views to offer.
Malibu
Malibu might be one of the first beaches that come to mind when you think of California. It's home to several beaches, perfect for lounging and exploring. If you want to set your sights on some of the mansions in the area, check out Malibu Colony Beach and Puerco Beach, where you'll be able to see them from the sand. Walk along the beach and let your imagination wander! You'll be awestruck by the incredible beauty of the coast and the upscale homes in the area. Malibu is known for its famous celebrities and luxury hotels, but there are still plenty more things to see and do!
Pfeiffer Beach
In the Big Sur region of California, Pfeiffer Beach is known for Keyhole Rock, a well-photographed rock formation. It's also well known for its violet-hued sand caused by manganese garnet that trickles into the sand after rainfall giving the beach a magical look. Pfeiffer Beach is great for photos, especially if you come during golden hour when the light is just right. You can take a long romantic walk down the beach and snap a few photos of the impressive rock formations. This beach is one of the few accessible in the Big Sur region and is better for a day trip or a pit stop.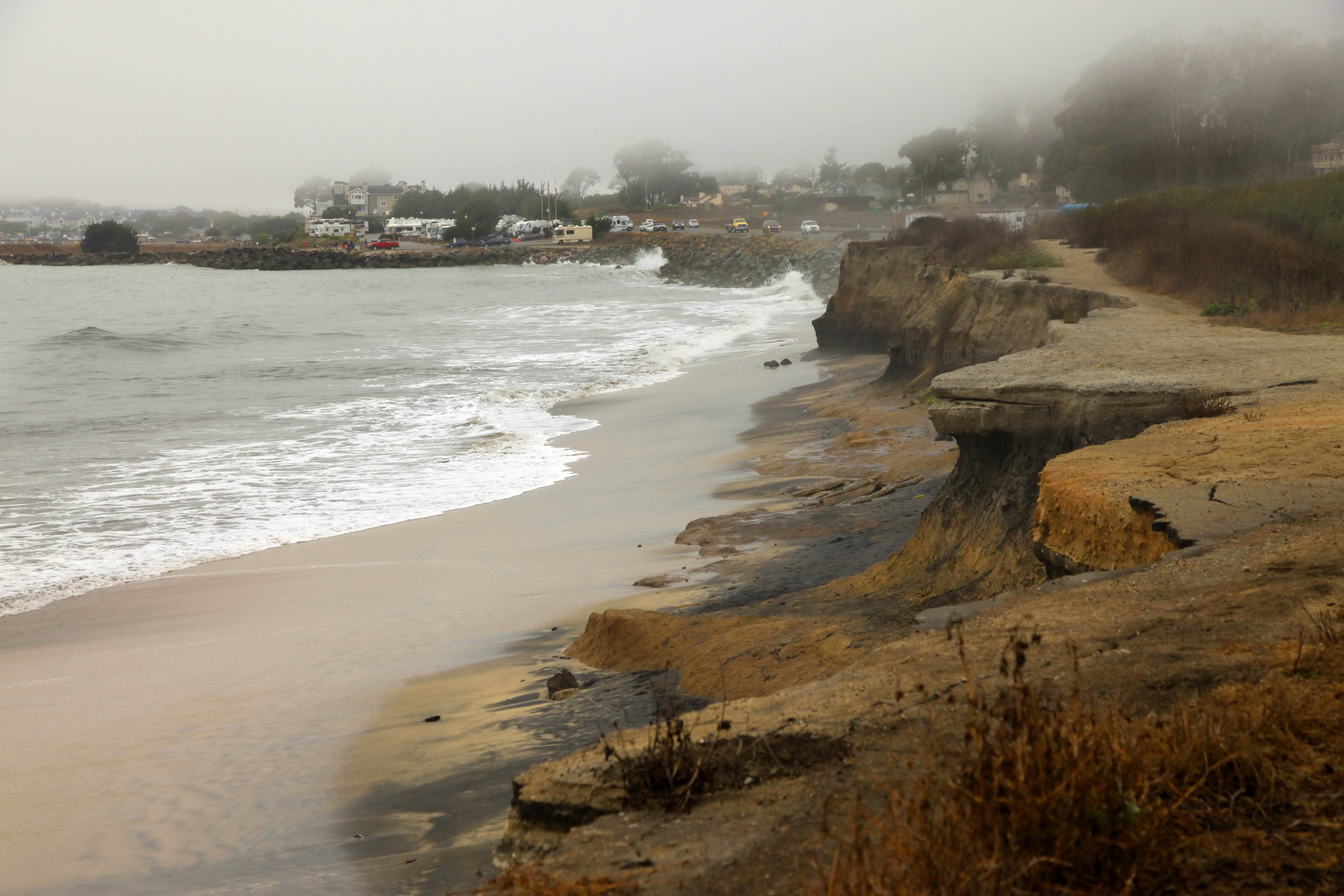 Half Moon Bay
Only a short drive from San Francisco, this charming beach town is the perfect romantic weekend getaway! You'll enjoy outdoor attractions like horseback riding, hiking, picnics on the beach, and more. There's plenty of opportunity to see marine life and enjoy delicious food downtown. Half Moon Bay is a beautiful beach, but it's also so much more!
Hermosa Beach
Just south of LA, you'll find this ideal beach to enjoy sinking your toes in the sand and swimming in calm waters. If you enjoy surfing, this is a great beach to ride the waves. With plenty of spots to grab a bite, a gorgeous pier, a miles-long boardwalk, and breathtaking sunsets, Hermosa Beach is one of the best beach spots in California!
Monterey Beach
Monterey takes off the stretch of the coast between Monterey and the seaside. Don't expect to swim here, but you can expect some lovely views. Fort Ord Dunes State Park is a great location to explore. Monterey Beach extends from Monterey City to Seaside, with Seaside being a popular launching spot for paragliders! Monterey is a great spot for kayaking, swimming, surfing, and fishing too!
Newport Beach
Known for its beautiful harbor, packed with boats and an incredible old-school amusement park, Newport Beach is a lively coastal town in California. It's a great place to enjoy putting your toes in the sand or get your adrenaline pumping on the Ferris wheel at Balboa Fun Zone. Aside from two piers and a gorgeous stretch of beach, you'll find upscale dining experiences and shopping to keep you busy. Plus, Newport Beach is home to the beautiful Crystal Cove State Park. Make sure to check it out if you're in the area.
Sunset Cliffs
Located in Point Loma, a community of San Diego, the Sunset Cliffs are a must-see for those hoping to explore sea caves, stunning coastal bluffs, and arches. If you want to immerse yourself in the natural coastal beauty of the state, Sunset Cliffs is a sight to behold. Pack a picnic and watch the sun slip out of view, for a memorable evening.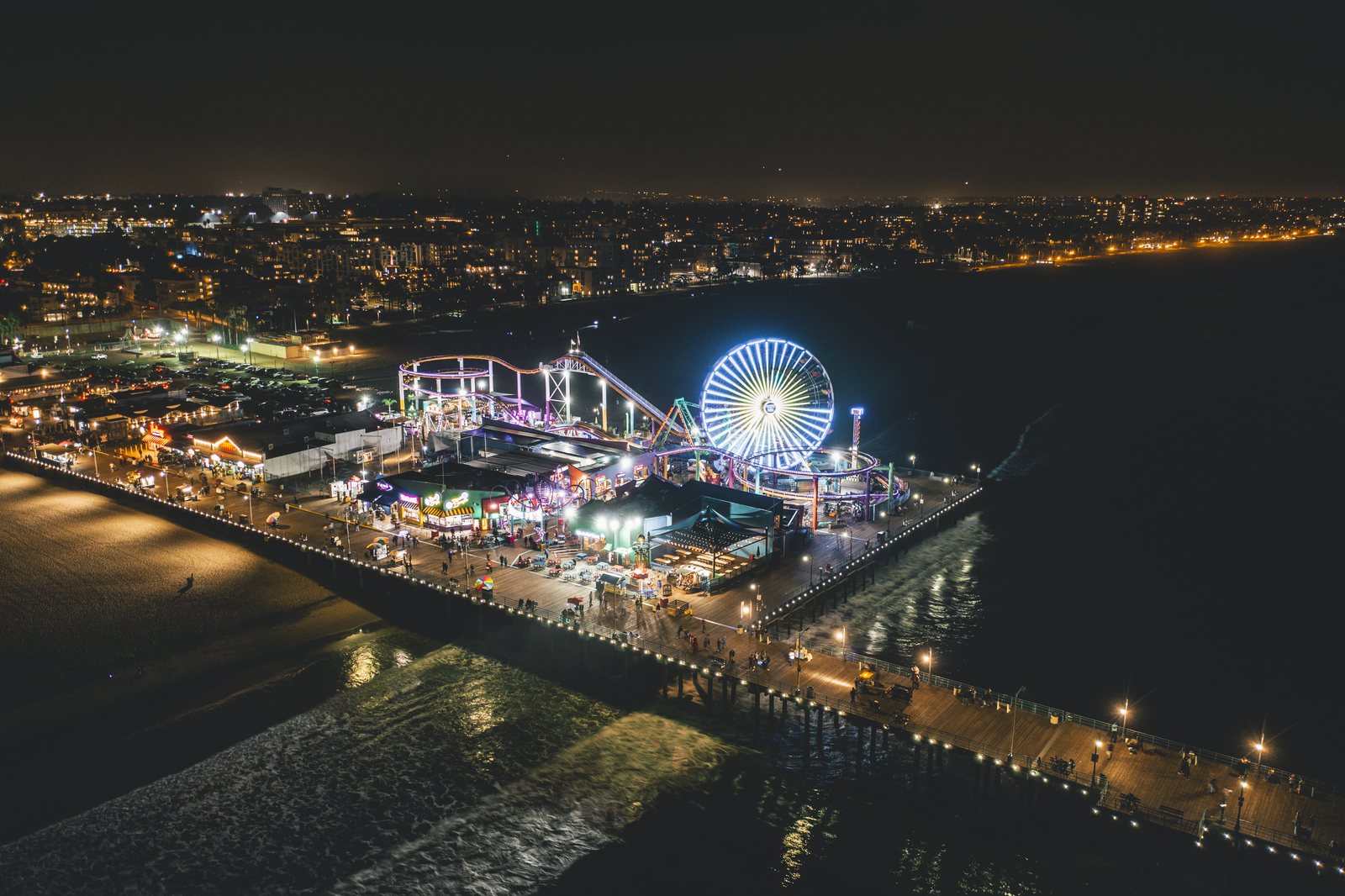 Santa Monica Beach
Santa Monica Beach is one of California's most beautiful beaches.. It's easily accessible from downtown LA and home to a large, popular pier with games, shopping, rides, and restaurants lining the boardwalk. Plus, it's within walking distance to plenty of other restaurants along the 3rd Street Promenade. You'll find a beautiful stretch of sandy beaches, a Ferris wheel, and plenty of carnival food! This is the best beach if you want one that's near the city and has plenty of attractions to keep you busy for hours.
Ventura
Ventura beach is a popular beach destination. Grab a boogie board, catch some waves, or bike along the various hiking trails in the region. You'll find a few beaches with plenty of activities like these. If you want to check out the sand dunes, stop by San Buenaventura State Beaches. You might even get lucky and spot some dolphins along the beaches. Whatever you choose to do, you will have tons to explore in Ventura—and make great memories while you're at it.
Manhattan Beach
Skip the crowds at Venice Beach or Santa Monica and try Manhattan Beach! Located 20 miles south of Los Angeles, this stretch of coast is incredibly peaceful, and home to some incredible waves for surfing. Walk along the paved path through immaculate seaside homes or catch a sunset at the pier. You will love this location if laid back and low-key sounds ideal.
Cambria
If you want to slow it down, Cambria is the perfect chill beach town to meander around and enjoy miles of gorgeous shorelines. You'll find a range of leisurely water sports like kayaking and boogie boarding. If you want a chance to see some elephant seals, check out Piedras Blancas Elephant Seal Rookery and walk along their elevated boardwalk. Cambria is the perfect beach destination to totally unplug and slow things down.
Oceanside
You'll find Oceanside to be much less crowded than the beaches in San Diego. It's a great spot to relax and take in the lovely view of the Pacific. Known for Oceanside Strand, the mile-long stretch of road running along the coast, you'll enjoy biking or running along it with a perfect ocean view. Oceanside offers a small-town vibe and is home to many delicious restaurants and quaint shops.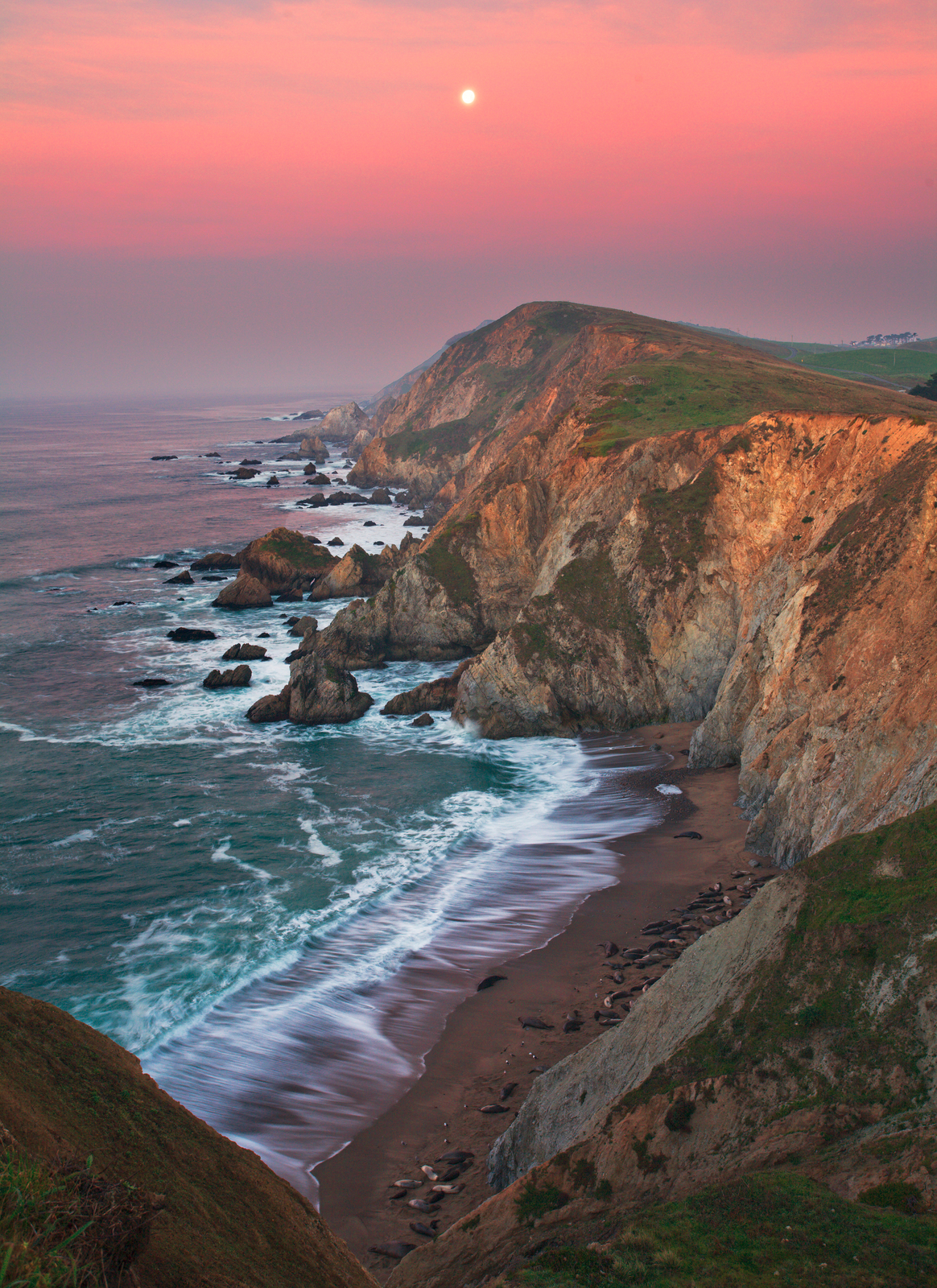 Point Reyes National Seashore
Point Reyes National Seashore is home to a few beaches along its rocky shoreline, where you can go whale watching, hiking, and view a picturesque lighthouse. Located just about an hour's drive a few miles north of San Francisco, it's the perfect place for a weekend trip or just a stop on a coastal road trip!
Agate Beach
If you get a kick out of hunting for agates, Agate Beach is the obvious choice for the best beaches in California for you. The scenic beach also offers plenty of other activities, such as fishing, clamming, and surfing. You might come for the agates, but you'll stay for the gorgeous scenery, stores, and casual dining experiences.
Coronado Beach
Catch a breathtaking sunset on the sands of beautiful Coronado Beach. You're only a short walk from Coronoado's main street, where you'll be met with plenty of restaurants and shopping. At the Southern end of the beach, you will even find the famous Hotel del Coronado, most known for being featured in Billy Wilder's Some Like It Hot, starring Marilyn Monroe. This beach is perfect for a relaxing weekend getaway with your partner.
East Beach
This unique beach is located in the middle of Santa Barbara. Yes, you read that right— in the middle of the city. It's known for its calm waters and fun activities like beach volleyball. You can enjoy the stunning waters of East Beach without leaving the convenience of being in the city since this beach is located at the tail end of Santa Barbara's main drag, you'll have access to plenty of luxury hotels and eateries.
Carpinteria
The perfect relaxing escape for nature lovers, Carpinteria is a stunning stretch of sparkling beach. You'll enjoy exploring tide pools, fishing, and camping along its shores. If you hope to catch a wave or two—check out Rincon Park County Beach.
Baker Beach
If you're looking for a beach with the best view of the Golden Gate Bridge, Baker Beach is it. Located on the peninsula of San Francisco, this beach is an excellent place to enjoy views of the bay, sink your toes into the sand, and take in stunning views of the Golden Gate. Since it's not far from the city, you can find a nice restaurant to dine at in the evening to end your relaxing beach day!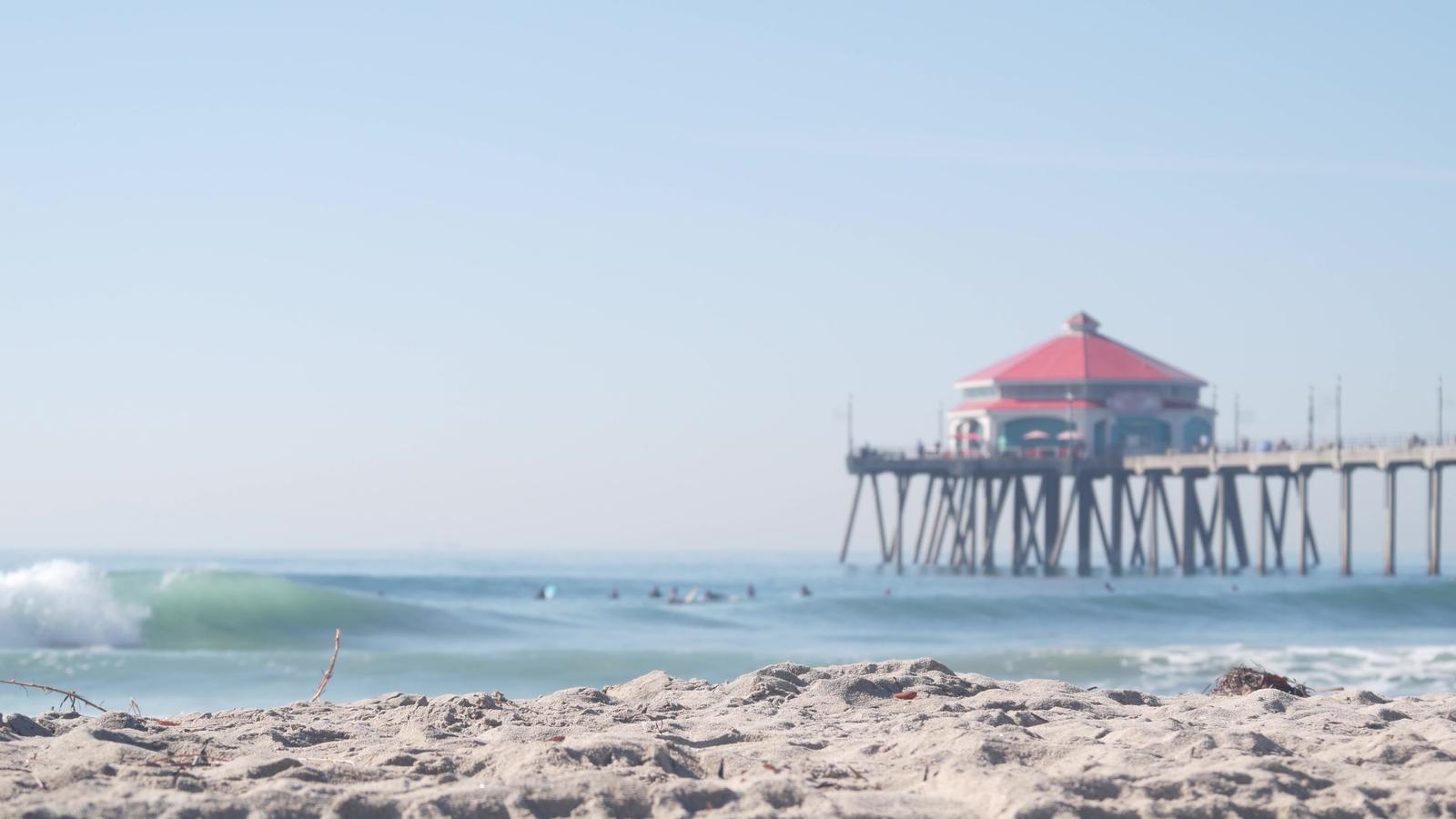 Huntington Beach
Known for 8.5 miles of coastline, Huntington Beach is most known for its surfing—and home to the International Surfing Museum. If you're a surfer or are interested in checking out the museum, Huntington Beach or Surf City is a must-see. The US Open is also hosted there each year if you want to join in on the exciting local celebrations! They often host live music events, have plenty of shopping opportunities, a ton of delicious seafood restaurants, and a popular nightlife scene!
Glass Beach
Who knew litter could create something so beautiful—not that you should ever litter. But if you want to see mother nature transform trash into something beautiful, check out Glass Beach. For years the people of Fort Bragg left their glass bottles and headlights on the beach. Time turned it into beautiful glass jewels. It's definitely a unique sight to see, and its history makes it even that much more fascinating!
Carlsbad State Beach
If you're interested in scuba diving, Carlsbad State Beach is one of the best places to go. Walk along the paved path known as Carlsbad Sea Wall or enjoy a picnic on their tables or benches. Carlsbad is a good spot for fishing, swimming, and kayaking.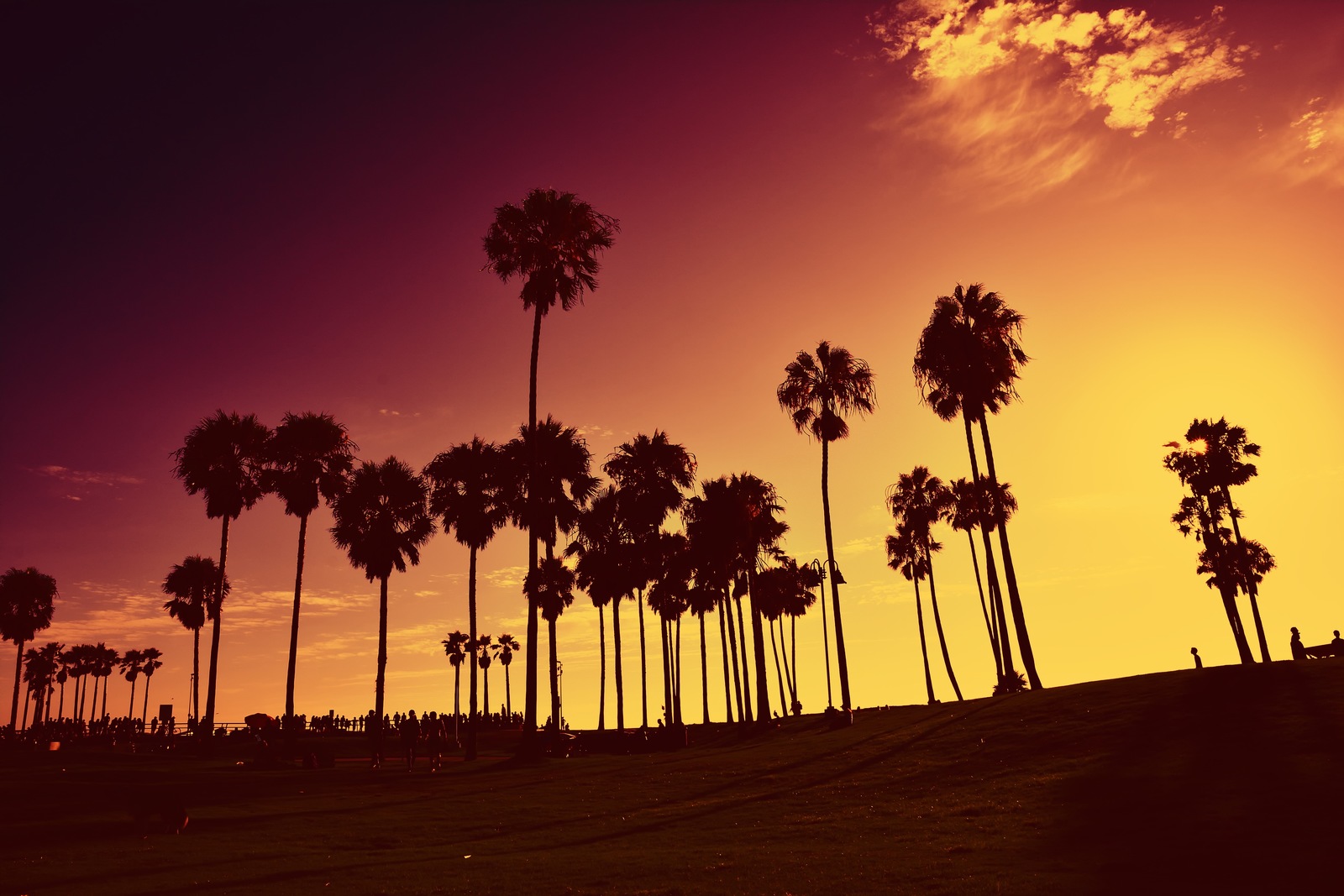 Venice Beach
Most are likely familiar with this buzzing beach located in Los Angeles. Known for its bohemian vibes and bustling boulevard, Venice is home to a beautiful beach with a ton of activities to keep you busy all weekend long. It's one of the most popular beaches in California, and for good reason! You'll find tons of shopping, eateries, and beach activities, such as swimming and beach volleyball, all in one place!
McWay Cove
Get a glimpse of one of the eight waterfalls that flow into the ocean. McWay Cove is a breathtaking stretch of beach in Big Sur. Enjoy panoramic views and cliff-backed trails along the cove. This beach is one of a kind and is a must-see even if you just make a day trip of it!
Arroyo Burro Beach County Park
Five miles from Santa Barbra, you'll find a great spot to enjoy a picnic or a few waves and even spot a few whales! This spot is dog friendly, so bring your furry friend and enjoy a barbecue with a spectacular view. You'll find grassy areas equipped with barbecues and picnic tables. Arroyo Burro Beach is a great place to stop if you're in the area!
San Clemente State Beach
In San Clemente, you'll find a well-manicured bluff, perfect for views of the ocean. San Clemente State Beach is a popular spot for swimming, skin diving, and surfing. Located in Orange County, San Clemente is a lovely spot for sunsets and home to a range of delicious restaurants and eclectic shops.
Torrey Pines State Natural Reserve
At Torrey Pines State Natural Reserve, you can experience 2,000 acres of the rare Torrey pine. Located within the city limits of San Diego, this park is a popular place for hiking and viewing wildlife. You can take long walks along 8 miles of trails and enjoy coastline views or even La Jolla or Del Mar on a clear day. If you want to explore cliffs formed by thousands of years of large waves pounding against the shore, you're in the right place.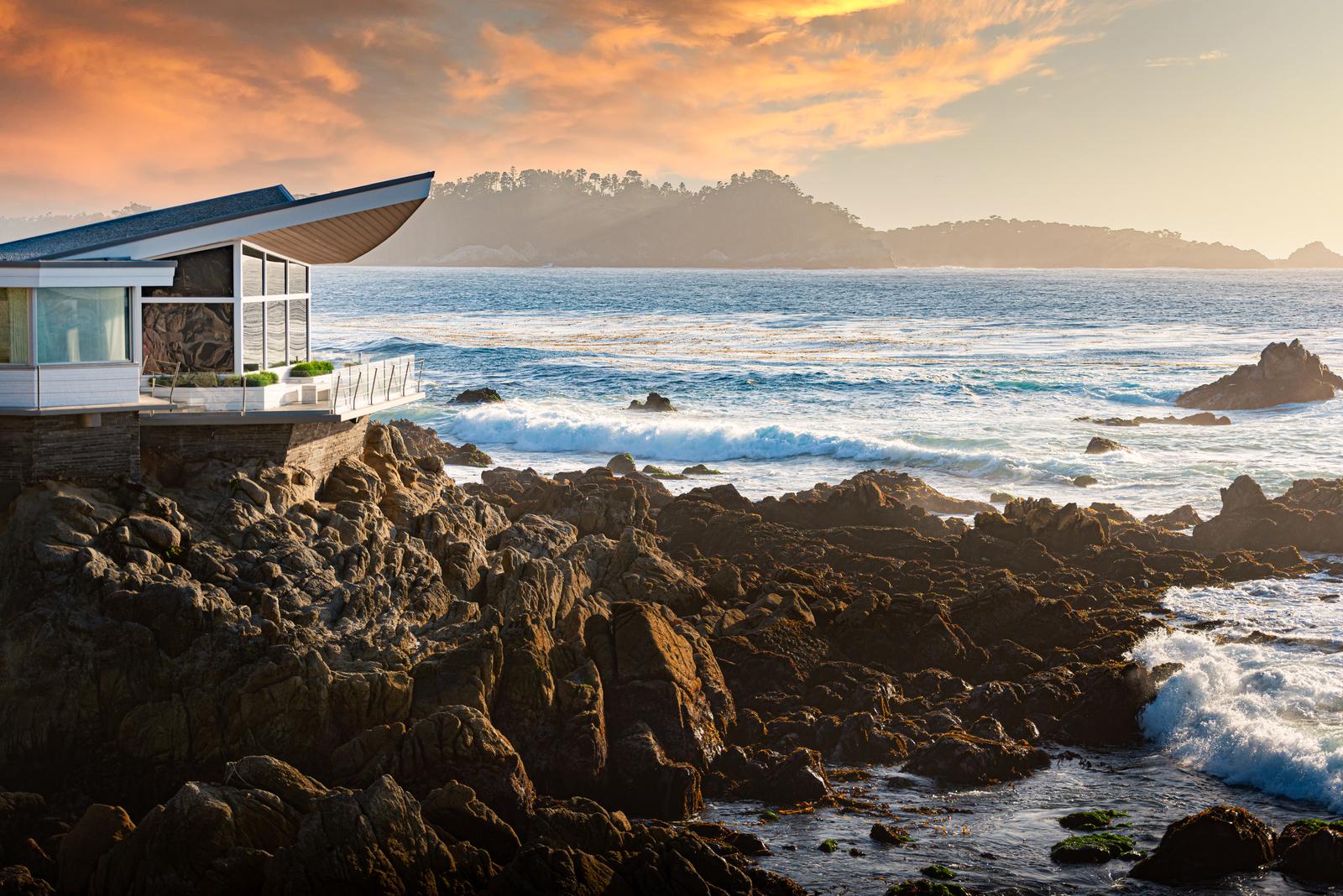 The 4 Beaches in Cali You Don't Want to Miss
So now that you have a bucket list of the best California beaches, here are the four we recommend. They are less crowded, easily accessible, and begging to be a romantic getaway for you!
Carmel-by-the-Sea
The quaint town of Carmel-by-the-Sea is like something out of a storybook, making it the perfect backdrop for your romantic weekend getaway. Whether you are strolling the streets downtown, catching the sunset slipping below the sea, or enjoying a glass of wine at one of the local restaurants, you'll find romance in the air.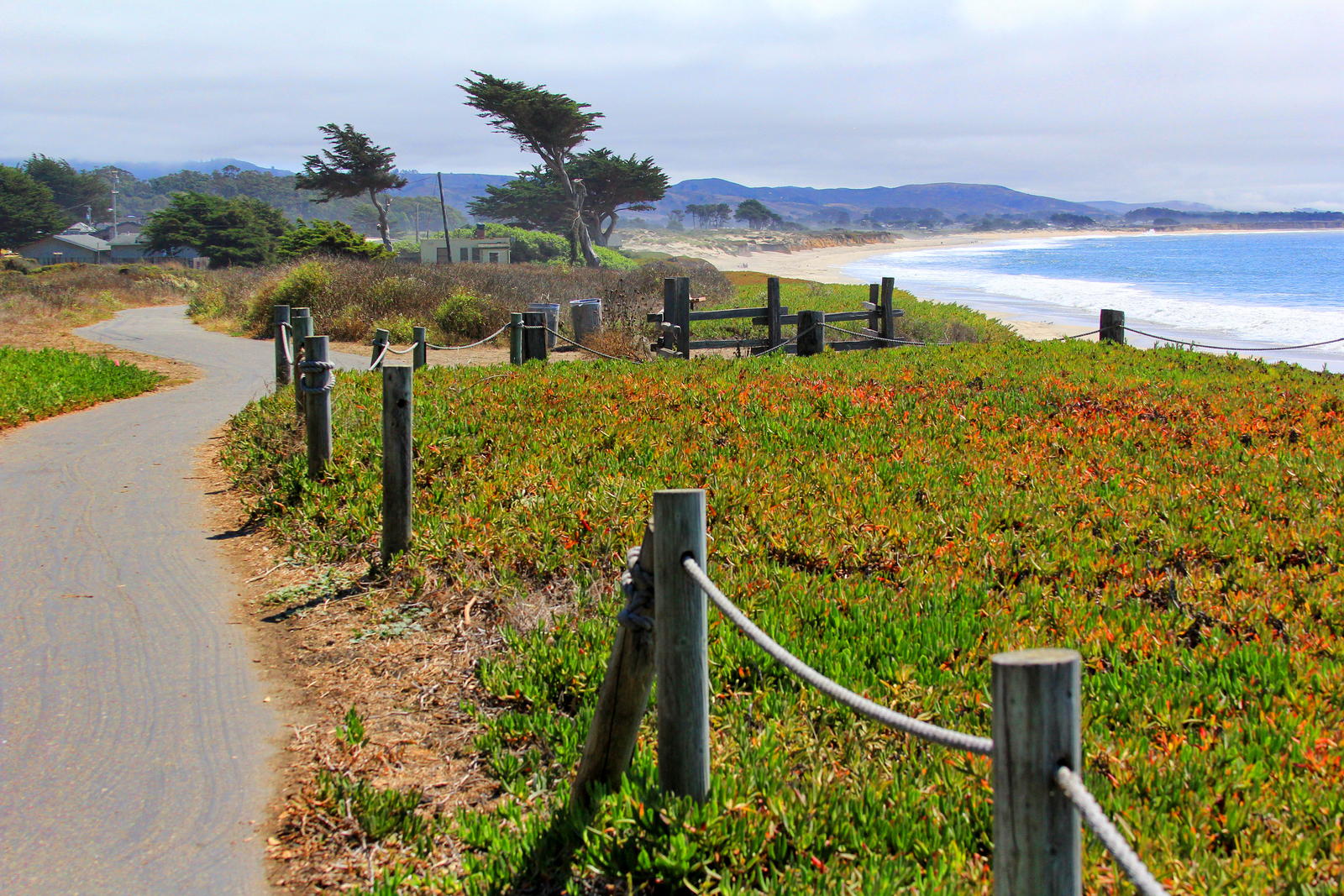 Half Moon Bay
Half Moon Bay is the perfect destination for couples looking to have a weekend filled with romance and connection. Half Moon Bay is a beautiful beach and a town filled with fun activities for the more adventurous couple. You'll find so much to do, from horseback riding, kayaking, swimming, hiking, whale watching, and so much more! There's also a great collection of small shops and delicious eateries. Book yourself a luxury hotel and make your way to Half Moon Bay—you won't regret it!
Catalina Island
If you want to travel to Italy without leaving the state of California, visit Catalina Island. You'll be best with stunning views of the Pacific, luxury hotels, and just an overall romantic vibe. It's set apart from the hustle and bustle, making you and your loved one like you're on your own little island of paradise. Plus, there are many opportunities for adventure and relaxation on the island.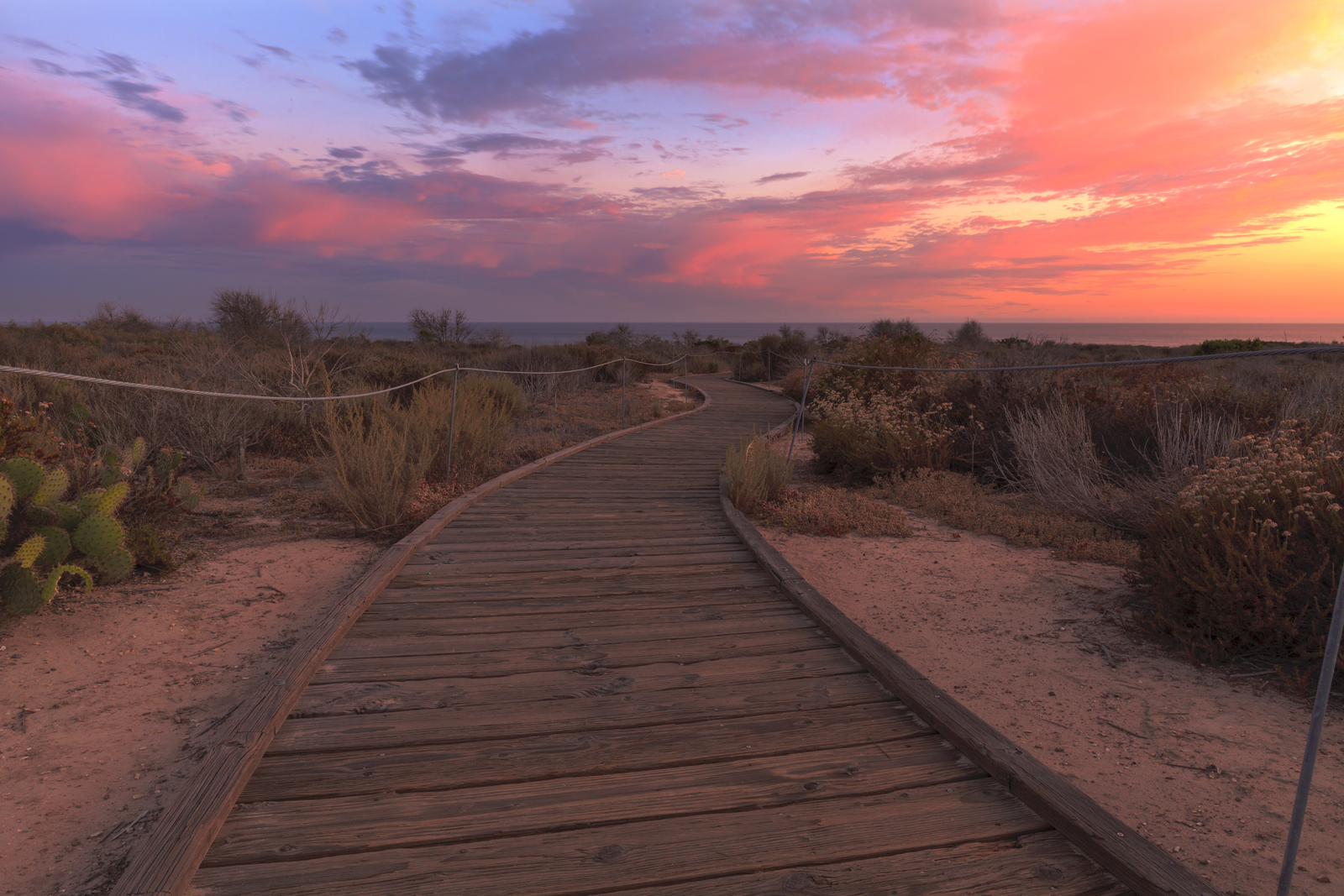 Crystal Cove
Rent a cove cottage on the beach of Crystal Cove State Park and spend the weekend exploring the natural beauty of California. There's nothing more romantic than spending the weekend wandering along the beach with your partner or enjoying a glass of wine beachside at sunset. If you're up for it, you can even spend the night beneath the stars! 
Final Thoughts...
I hope you found a few beaches to add to your bucket list! These beaches are worth, taking the time to plan a road trip down the Pacific Coast Highway. Enjoy a scenic drive and stop along a few of California's popular beaches! Let me know what California beaches you love and why in the comments!
More Romantic California Getaways