7 Beautiful Stops Along the Pacific Coast Highway: Planning Your Romantic Road Trip
Dreaming of taking a romantic weekend getaway with your honey? What about the perfect romantic road trip along one of the most iconic stretches of highway? There's nothing like a romantic road trip along the Pacific Coast Highway! You can spend a day driving out and back or make it a full weekend with overnight stops in charming coastal towns.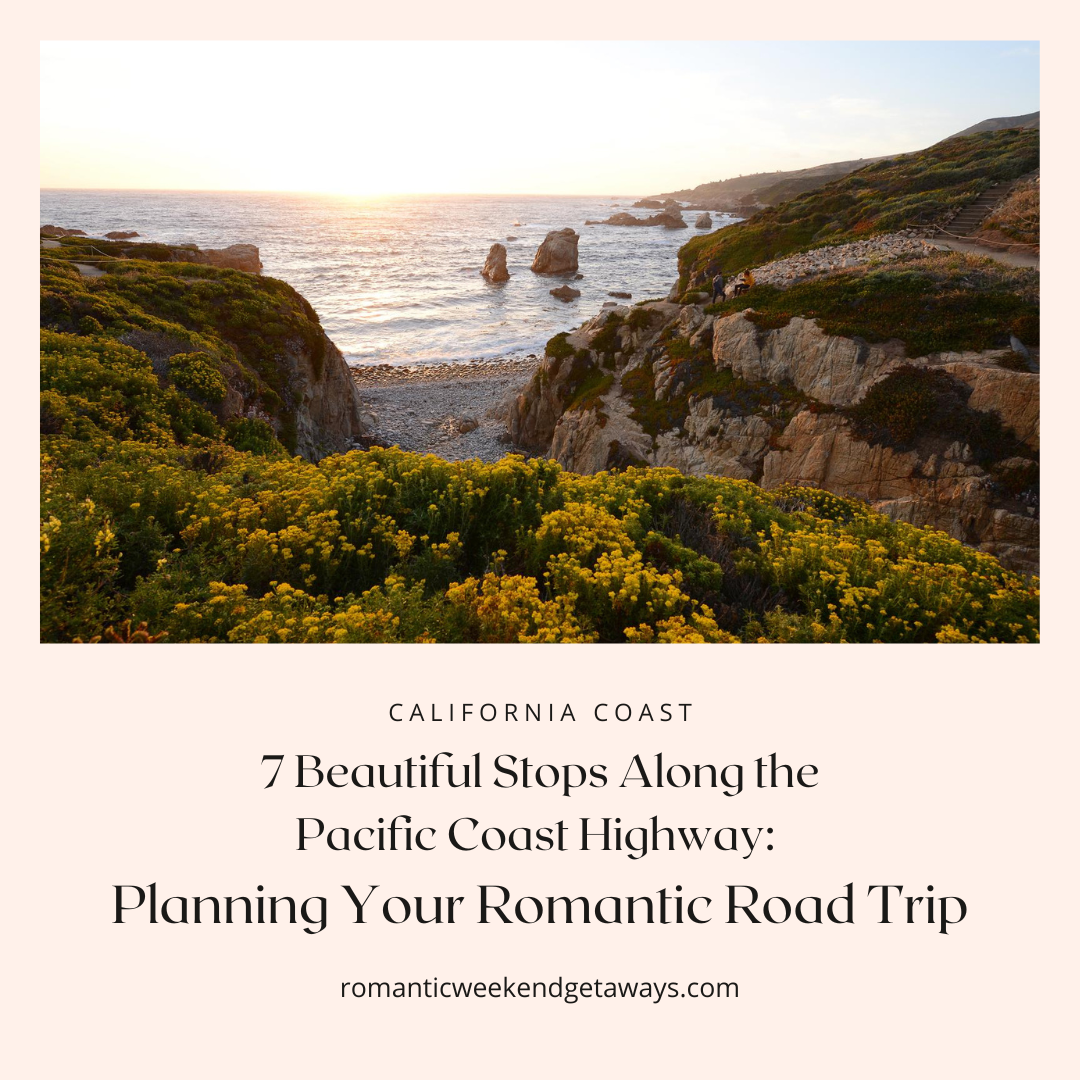 Jump to:
Why limit yourself to one romantic beach when you can see multiple and discover quaint beach towns and stunning views all along the California coast?
We compiled a list of the most beautiful and romantic destinations to help you plan your romantic road trip along the PCH! You can include as many stops along your road trip as you want or leave a few off to adjust to whatever length fits your needs.
Where Does the Pacific Coast Highway Start and End?
The PCH is a north-south highway that runs along a large portion of the West Coast. From Southern California up through Oregon and into Washington. It's one of the most scenic drives in the United States, with the absolute best views of the Pacific Ocean. For this road trip, we will focus on the portion of the PCH that runs through some of the best places in California.
Planning Your Pacific Coast Highway Roadtrip
For California, the best time weather-wise would be between September in October. Southern California's weather is good year-round, but Northern California tends to be best during September. If you plan to include Oregon and Washington, keep in mind their weather is a bit different, so plan accordingly.
Once you know what time of year you want to go, you can choose a starting point. Depending on where you live, you can start from home or fly into San Francisco or Los Angeles and snag a rental car for your trip.
Now that we have the logistics out of the way, let's dive into the best spots to stop along the PCH!
Most Romantic Stops Along the Pacific Coast Highway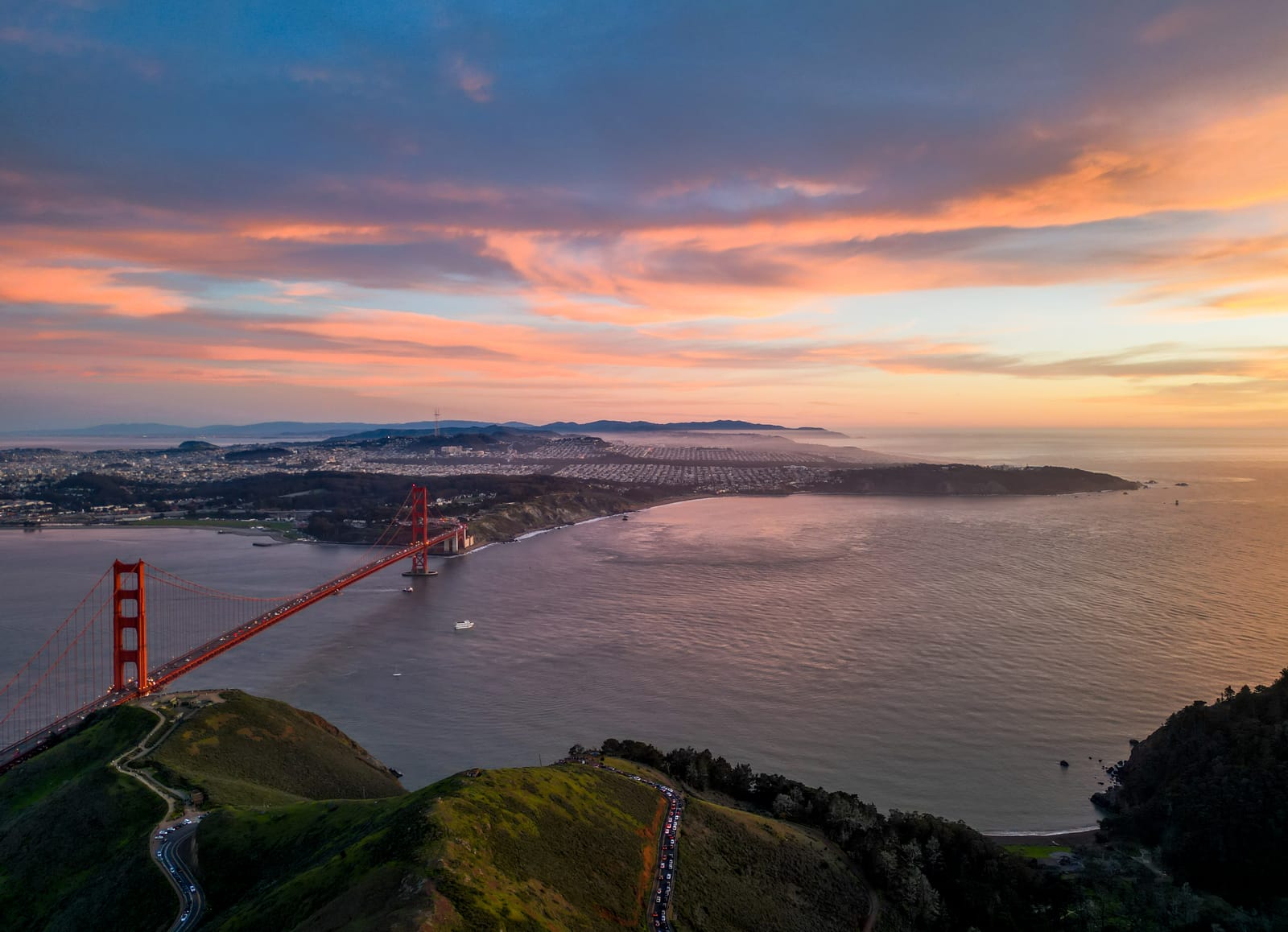 San Francisco
Situated in Northern California, San Francisco is a great place to start your road trip! Home to many attractions like the Golden Gate Bridge, romantic luxury hotels, and delicious upscale restaurants, SF is the perfect way to kick off your romantic road trip. Try their clam chowder, and be sure to check out the famous Lombard street.
For more adventure types, you can find places to bike, hike, kayak, and more. On the other side of the spectrum—you'll find romantic restaurants with delicious food and drinks, plus an array of interesting museums to check out. One of the best things about the Bay Area is its plethora of experiences right at your fingertips. There's truly something for everyone!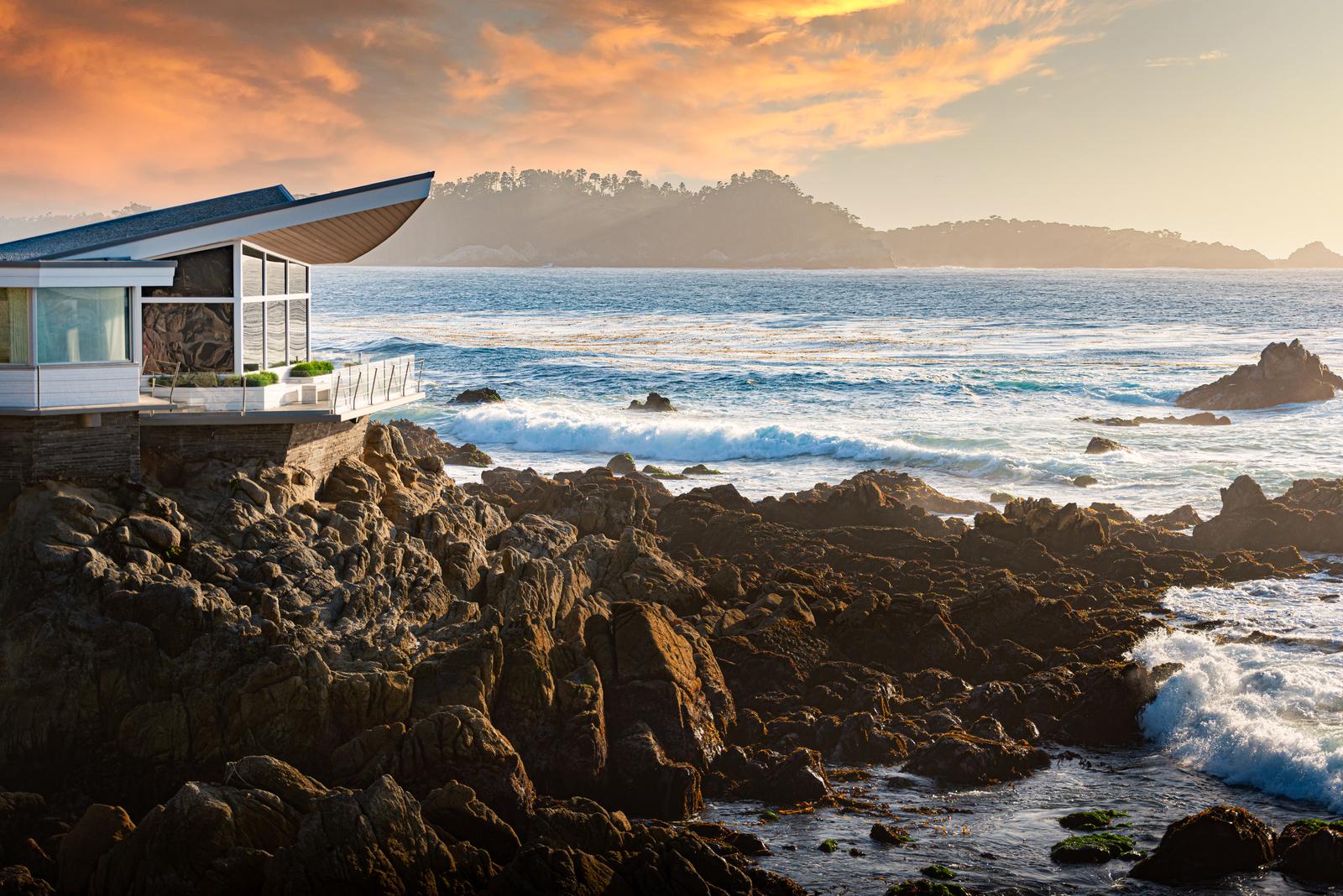 Carmel-by-the-Sea
Another must-see stop you'll want to take advantage of on your PCH road trip is Carmel-by-the-Sea. This quaint beach town is the ultimate romantic attraction. The beaches are breathtaking, offering incredible ocean views and white sands. You'll explore the storybook town during the day, enjoy wine tasting, local restaurants and shops, and end your day with a lovely sunset walk along the beach. Out of all the coastal towns in California, Carmel is a must-see! In fact, we have a whole article dedicated to helping you plan your romantic weekend getaway in Carmel-by-the-Sea. Plus, you'll only be a hop, skip, and jump from the iconic Pebble Beach!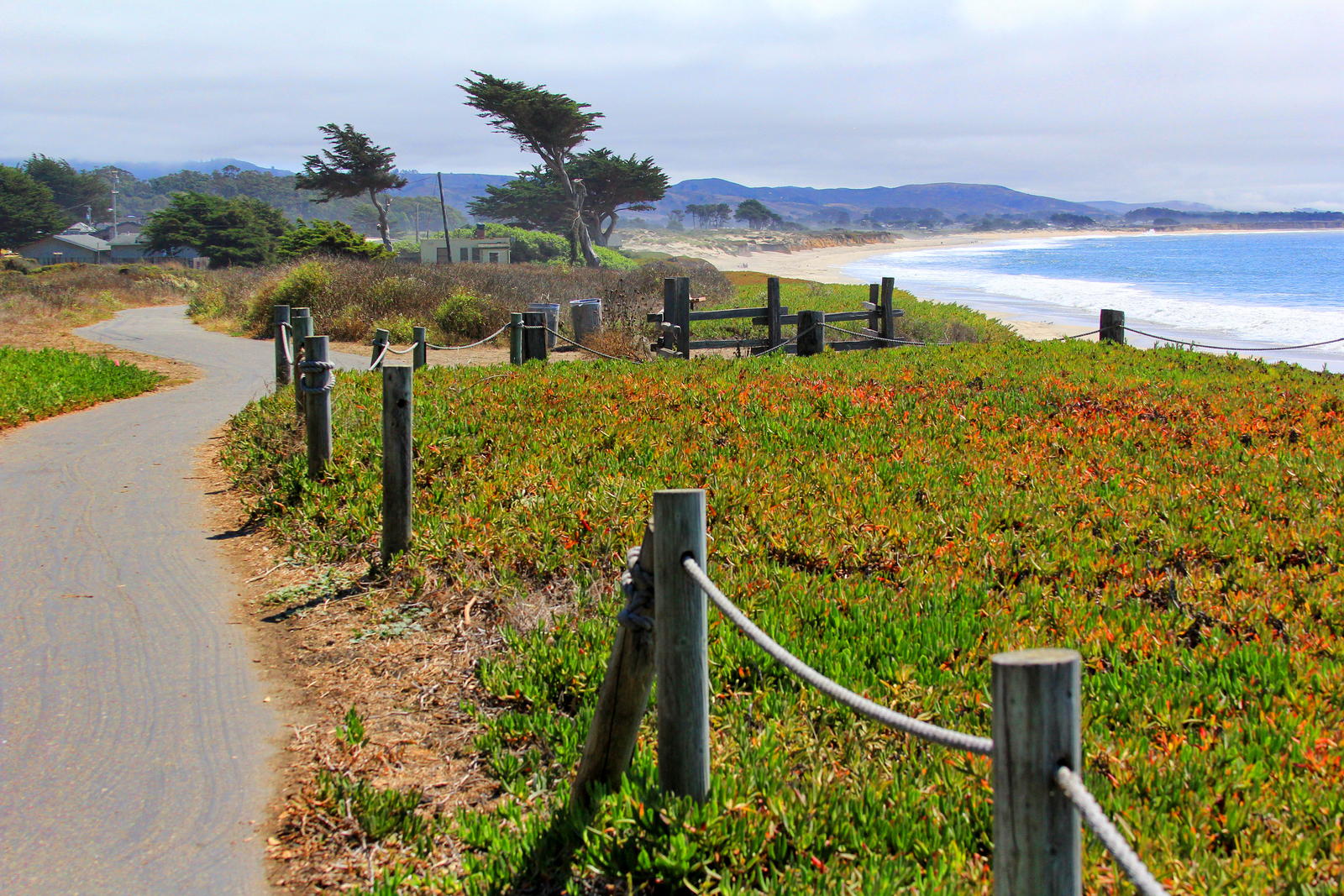 Half Moon Bay
Located in San Mateo County, 25 miles south of San Francisco along the central coast. This charming small town will leave you and your partner feeling more connected than ever. With tons of activities to do, you're sure to find tons of new ways to spend time together! Half Moon Bay has it all—sunsets on the beach, wine tasting, horseback riding, hiking, and much more! You don't want to miss this gem!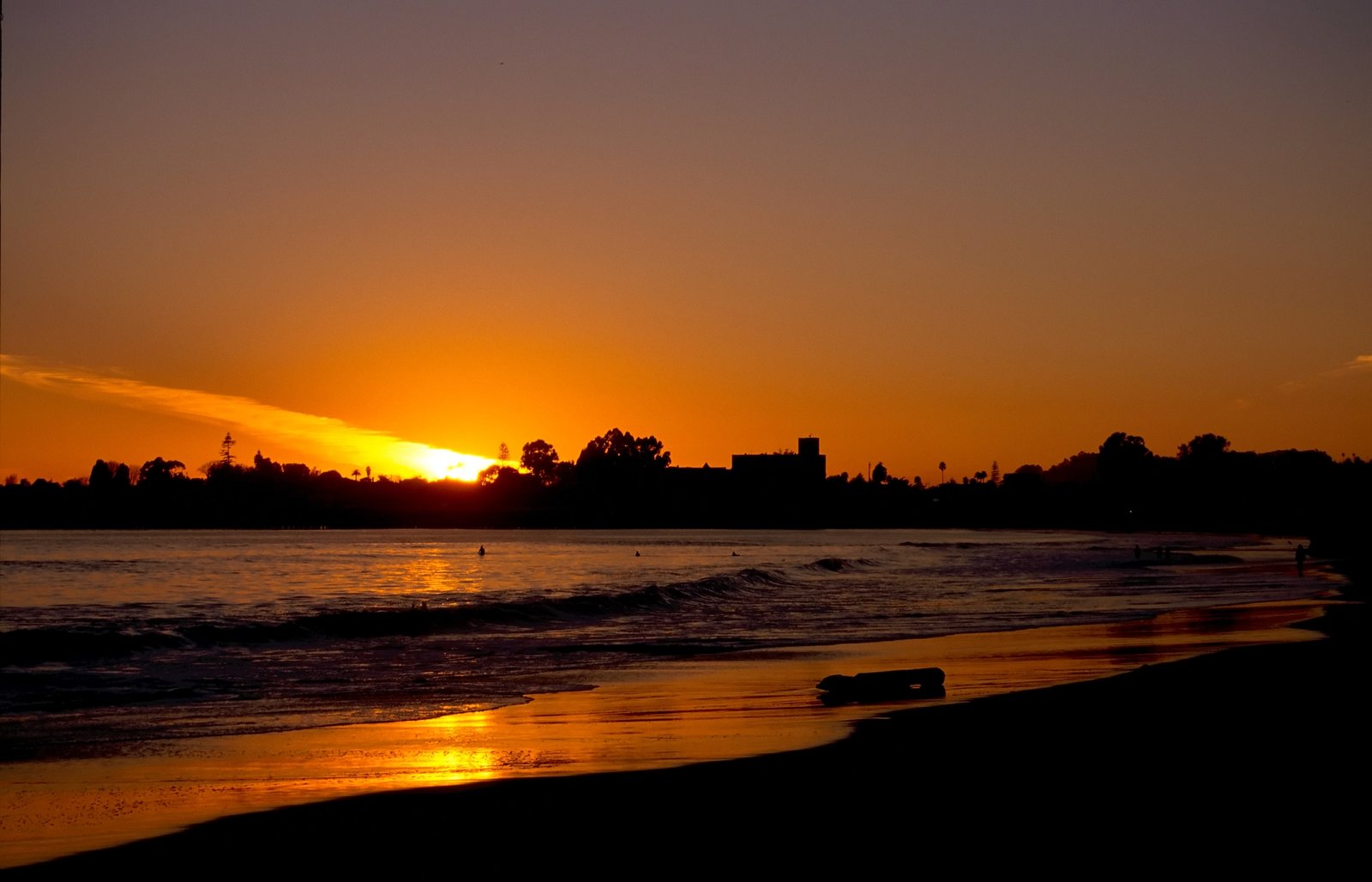 Santa Cruz
Making our way down to Central California's coast is Santa Cruz. Explore their long wharf, where you'll find many shops and eateries. You'll know you're in Santa Cruz when you see towering roller coaster rides! This stretch of California's coast is home to an amusement park! If that's your style, this is the perfect pitstop to enjoy ocean views and get your adrenaline pumping with a few roller coaster rides! Don't forget to share some cotton candy, explore the tide pools, and check out Henry Cowell Redwoods State Park!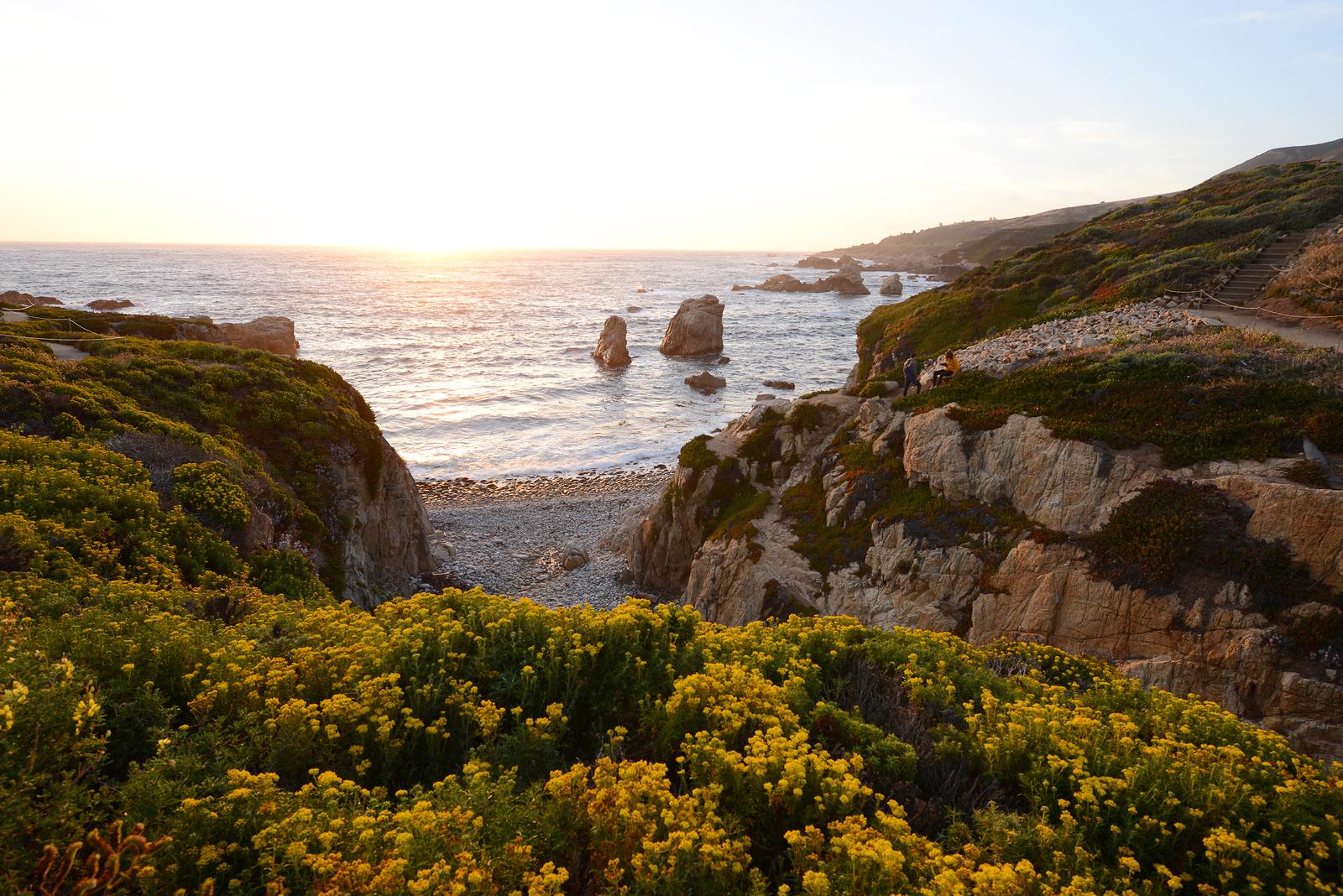 Monterey
Made famous by John Steinbeck's novel Cannery Row, Monterey is a breathtaking spot to enjoy marine life! If you and your partner love a good aquarium, the Monterey Bay Aquarium is a must-see! You can spend the day tide-pooling along gorgeous stretches of beach or rent some kayaks to get a better view of otters, sea lions, and other wildlife in the area!
Bonus: If you want to see some of the most beautiful stretches of coast in the entire world, make a few pit stops along Big Sur—a 90-mile stretch of protected beaches. There are plenty of incredible stops to make and sites to see, like Bixby Bridge, Pfeiffer Beach, McWay Falls, and more!
Pismo Beach
For our couples that want to enjoy a laid-back beach town with lots of adventurous activities, Pismo Beach is the perfect stop for you! Whether you want to try dune buggying, surfing, or kayaking, Pismo beach is one of the best places for it! There's also plenty of room for relaxing if that's more your speed. Walk along the beach, pier, and boardwalk. Either way, you'll be met with beautiful beaches. Or sneak off to one of our favorite places just north, Morro Bay, where you can see sea otters up close! These are both just a short drive on your California coast road trip towards San Loios Obisbo, one of the best stops not right on the shore.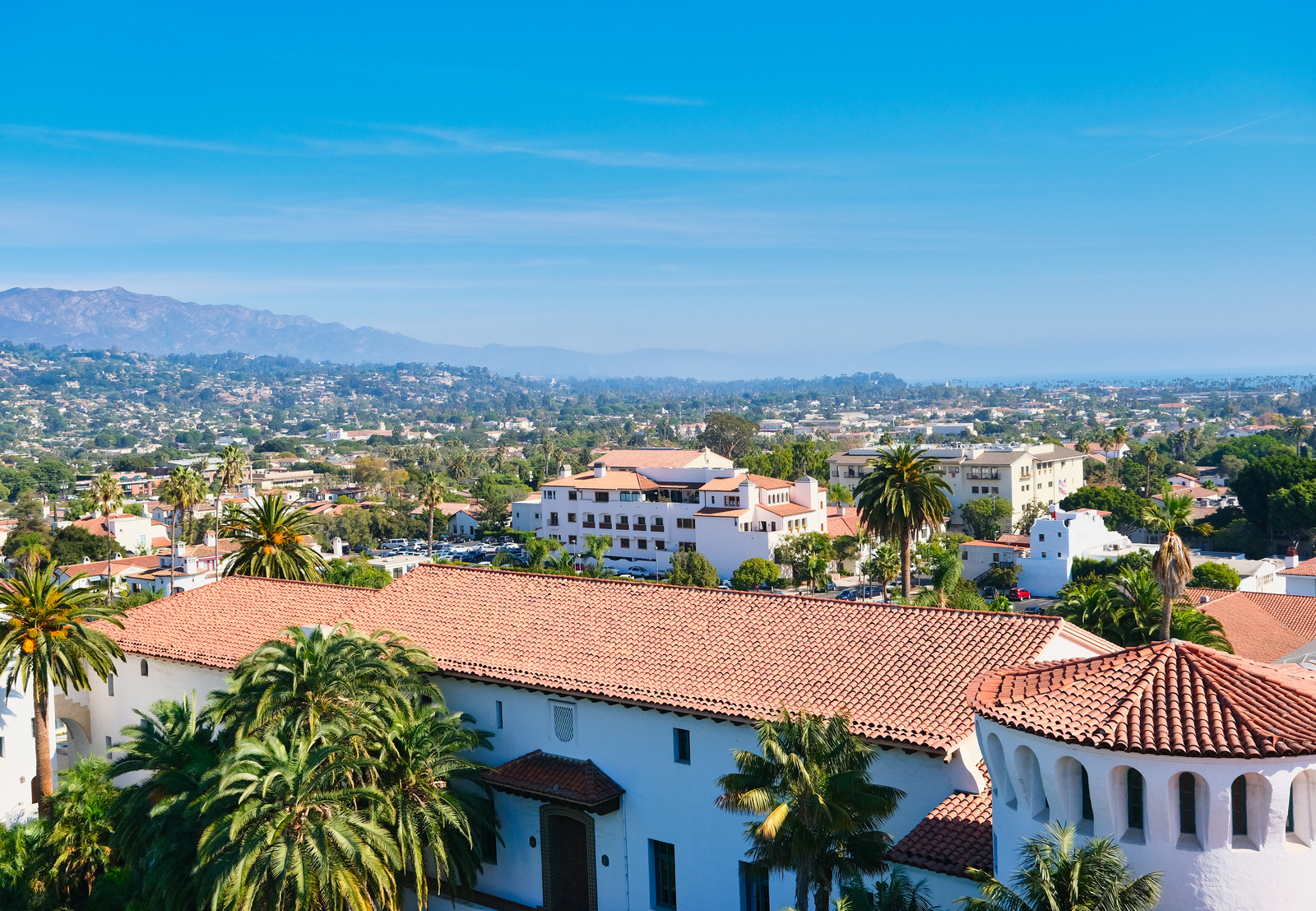 Santa Barbara
When you think of California, you probably picture sandy beaches, palm trees, and white stucco houses with red tile roofs. That's exactly what you'll find in Santa Barbara. You'll find plenty of upscale restaurants and shops to keep you busy and your tastebuds satisfied. This is a great spot to enjoy one-on-one time with your loved one and fully absorb the California experience, from delicious wine and beautiful beaches to a 37-acre botanical garden called Lotusland. There's no shortage of romantic activities in Santa Barbara.
Before the scenic route of the PCH turns into a busy street through LA, make sure you stop in Santa Barbara! Home to excellent wine and the Urban Wine Trail, this is a popular spot for winos. You could even make this your first stop along California's pacific crest highway road trip if you plan on heading north!
FAQs for Planning a PCH Road Trip
What are the must-see attractions and stops along the PCH for a romantic trip?
Some must-see attractions and stops for a romantic trip along the PCH include:
The scenic 17-Mile Drive in Monterey and Pebble Beach
Bixby Creek Bridge and McWay Falls in Big Sur
Hearst Castle in San Simeon
Santa Barbara's charming downtown, shopping, and waterfront
Malibu's pristine beaches and views at sunset
The picturesque coastal towns of Carmel-by-the-Sea and Laguna Beach
What are the best times of the year to take a romantic drive along the PCH?
The best times of the year for a romantic drive along the PCH are generally during the late spring (April-May) and early fall (September-October) when the weather is mild and the crowds are smaller, thoough we love it in the spring months best for the bright blooms and green grasses.
Are there any romantic activities, such as wine tastings or sunset cruises, we can enjoy along the PCH?
Yes, there are several romantic activities to enjoy along the PCH. Wine tastings can be found in various regions, including Santa Barbara County, Monterey County, and Sonoma County. Sunset cruises or marine wildlife tours are available in coastal cities such as Santa Barbara, Newport Beach, and San Diego. Additionally, couples can indulge in couples' spa treatments, take scenic hikes, or explore charming coastal towns together.
What are some tips for packing and preparing for a romantic PCH road trip?
Pack layers of clothing to accommodate varying temperatures along the coast. A light jacket is great for morning and after sunset.
Bring sunscreen, hats, and sunglasses for sun protection
Don't forget comfortable walking shoes for exploring the various stops
Pack a picnic basket with snacks, drinks, and utensils for impromptu romantic picnics (reminder, romantic road trips).
Plan your route and accommodations in advance, but be open to spontaneous detours or stops. There are so many small charming towns along the drive, have the liberty to stop as often as you want.
How can we create a balanced itinerary that includes sightseeing, relaxation, and romantic experiences along the PCH?
To create a balanced itinerary, consider the following tips:
Prioritize the attractions and experiences that are most important to you and your partner.
Allow for downtime between activities for relaxation and rejuvenation.
Schedule a mix of sightseeing, outdoor activities, and unique experiences, such as wine tastings or spa treatments.
Consider allocating time for leisurely strolls through charming coastal towns or beach visits.
Plan your overnight stays in romantic accommodations or private BnBs to enhance the overall experience.
What are some resources, such as travel guides or apps, that can help us plan our romantic PCH getaway?
Some resources that can help you plan your romantic PCH getaway include:
Our California Travel archives, with a variety of stops along the PCH, recommendations, and ideas.
Travel guidebooks, such as Lonely Planet or Fodor's, focusing on California or the Pacific Coast Highway.
Social media platforms, such as Instagram, for inspiration, local events, and visual guides.
Apps like Roadtrippers, GasBuddy, and Google Maps for route planning, locating attractions, and finding nearby amenities.
Local tourism websites for updated information on attractions, events, and travel tips.
Final Thoughts…
A Pacific Coast Highway road trip is one of the best ways to explore a new area and spend quality time with your partner! Plus, California is such a romantic destination in and of itself—a road trip along the scenic coast just makes sense! We hope you found some new gems to add to your California road trip itinerary! If you have any spots you think we should add to the list, feel free to comment below!
More Romantic California Getaways