8 Romantic Places to Stay in San Diego
Planning a romantic getaway in San Diego? San Diego offers some of the best weather and views Southern California has to offer. It's no surprise you're considering a romantic weekend getaway at this ideal location.
San Diego is truly the perfect getaway with incredible ocean views, plenty of fine dining options, and so much more. It doesn't even need to be a special occasion to splurge on a weekend getaway. So spice things up and make memories that will last a lifetime. Here are eight of the most romantic hotels to consider when visiting!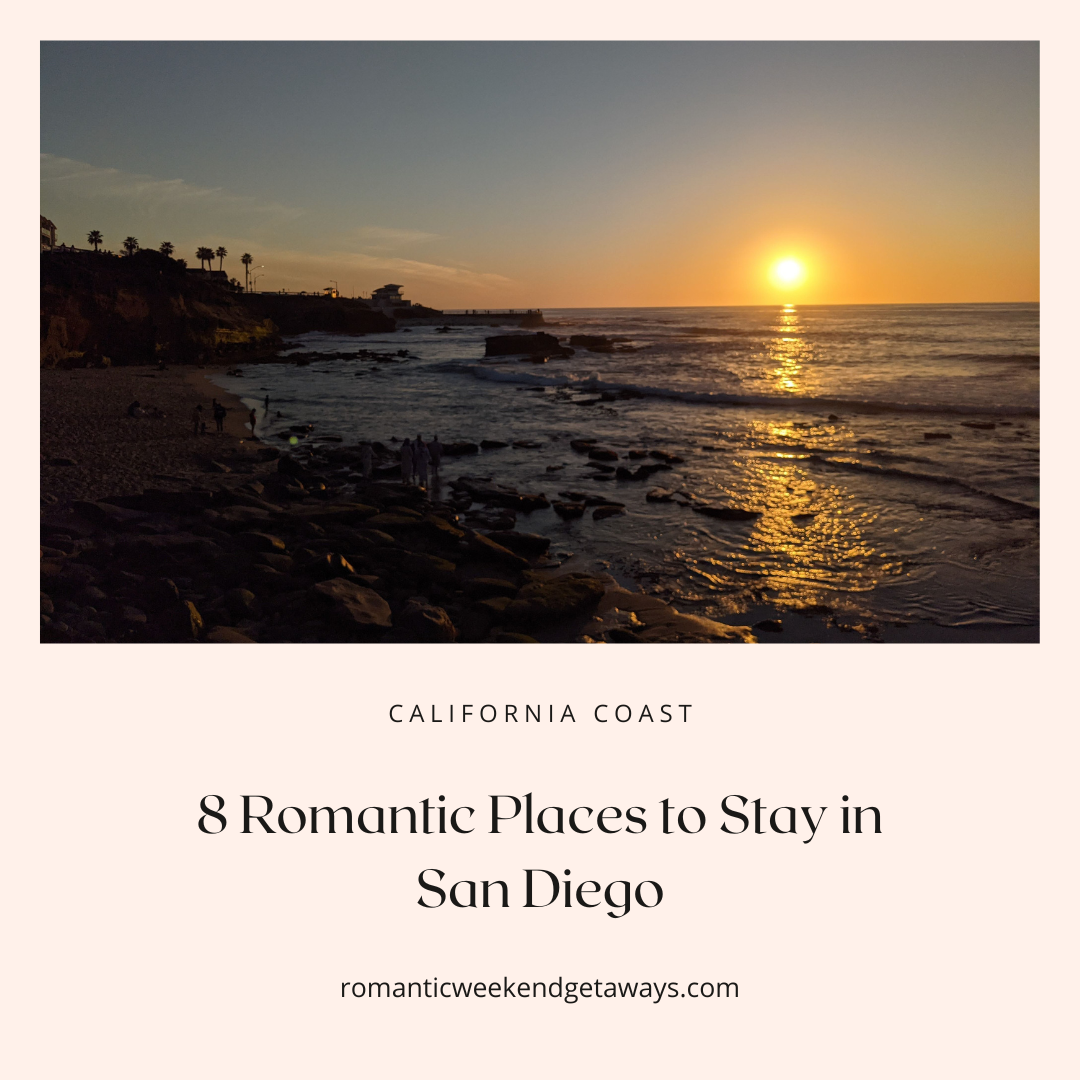 Jump to: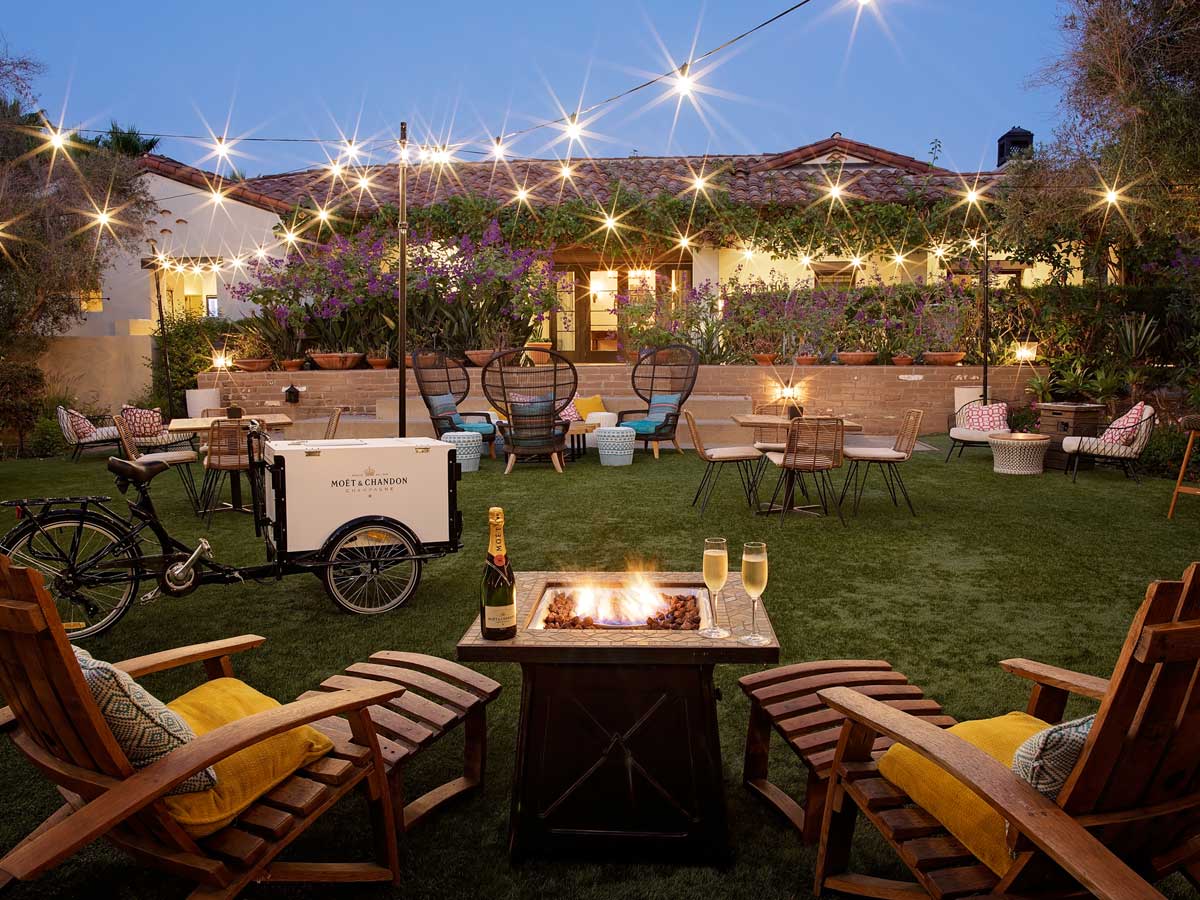 Estancias will take your breath away with its stunning hacienda-style architecture nestled amongst 10 lush acres of garden greenery. One of the best things about this great place is that they have award-winning botanical gardens on the property adorned with whimsical walkways and water fountains to enjoy. It's also just a short walk from the iconic La Jolla shoreline with an amazing ocean view at sunset.
Estancia offers guest rooms, accessible rooms, and suites to consider. As well as three restaurants, a spa, an outdoor pool, and plenty more. You can even reserve your own private cabana or daybed while you relax poolside. Each comes with its own mini fridge fully stocked with beverages and the option to order from the Haven Grill at a 10$ discount. If you find you want to leave the premises, the surrounding area is filled with plenty of options, from exploring La Jolla or visiting downtown San Diego!
La Valencia is such a beautiful hotel and full of rich history that it has been designated as a San Diego Historic Landmark. It's been offering romantic weekends to lovebirds since 1926—over 90 years of romance! This luxury hotel and historic building has an assortment of room options from vintage to classic, villas, and suites. Their on-site restaurant, The Mediterranean, serves California Mediterranean cuisine along with romantic and relaxing ocean views.
After dinner, take a swim at night in the heated pool. Or visit the local La Jolla village shops and art galleries. The heart of La Jolla is one of the best places to explore because of its relaxed oceanside atmosphere. Whether you decide to spend time at the beach, exploring all the best areas of La Jolla cove and the sea mammals, or staying on the hotel premises, you are you to have a great time.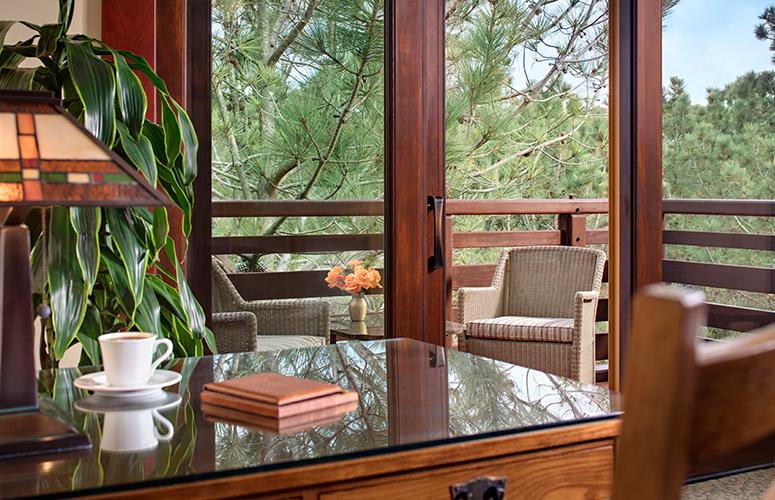 When you hear the word 'lodge,' you're likely thinking of a grand cabin-esque resort amongst the snow and mountains. The Lodge Torrey Pines offers all of the same unique architecture as if you were tucked away in the mountains, but instead, you'll be looking out over the Pacific Ocean. Each of the spacious rooms offers the same cabin-like features with dark oakwood and forest greenery.
The Lodge offers daily deluxe breakfast, locally sourced cuisine, and a 'Better Together" special spa package. If you are both golfers, they provide a world-renowned 18-hole golf course that you may have seen featured during the 2008 and 2021 U.S. Open Championships! You can also book yoga classes, guided nature walks, or a self-guided botanical tour. There's also live music each evening from 5:30 pm to 8:30 pm at both hotel restaurants. It's the perfect spot if you've been eager to get out for a cabin getaway but still want the cool breeze of the ocean all throughout the day.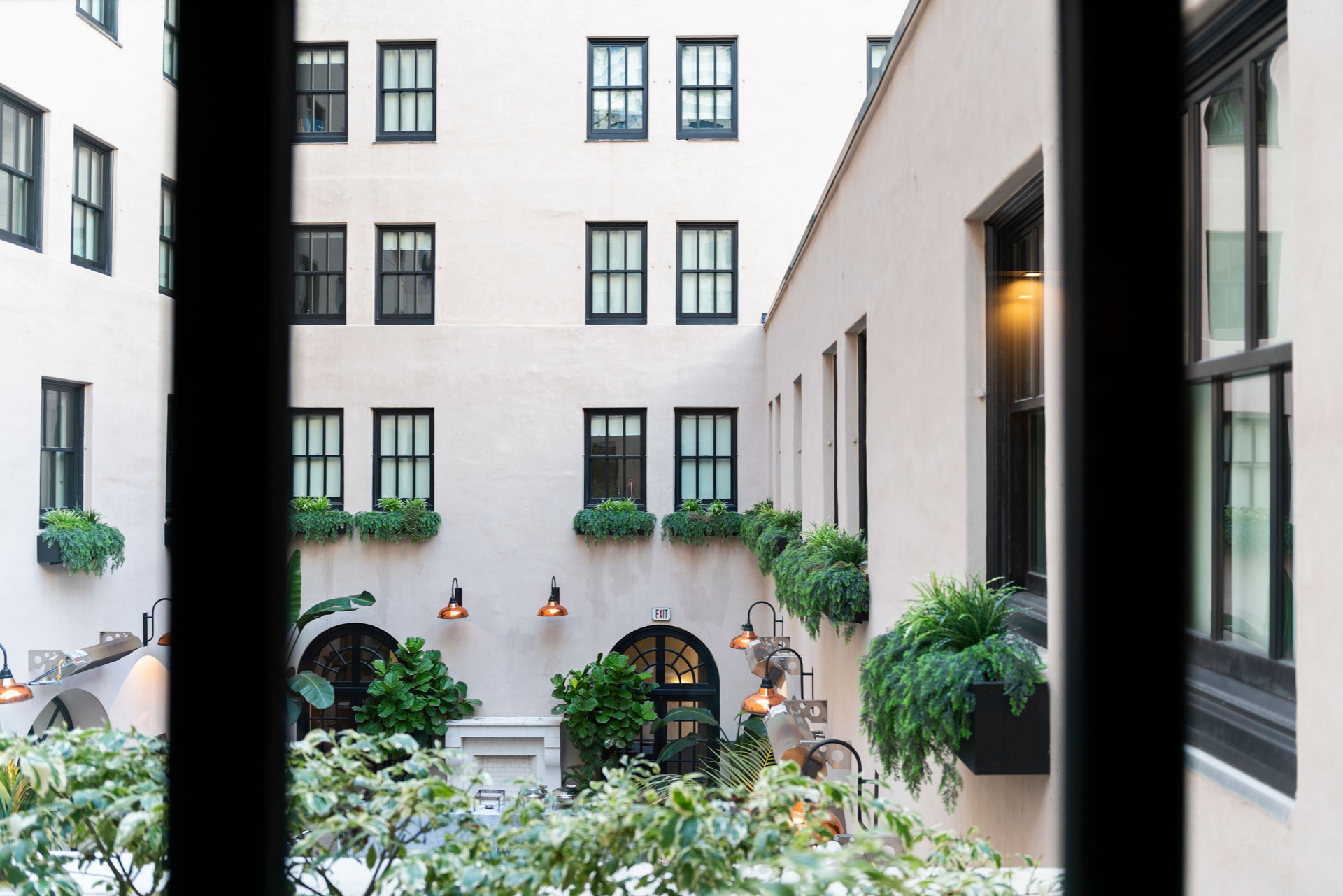 The Guild is located in the heart of San Diego, based in the Downtown area, amongst various fine dining options and a mere minutes' walk from the beach. Established in 1924 and renovated in 2018, this luxury boutique hotel presents Renaissance-style architecture. Standard guest rooms are known to be on the smaller side, but truly great if you don't need a lot of room, and don't mind cozying up next to your person. However, if you like more room and space, you can look into their pricier penthouse booking options.
This is the best hotel if you're looking for all that San Diego nightlife has to offer. It's just minutes away from the historic buildings of the gaslamp quarter too. There you will find plenty of restaurants, bars, and even nightclubs if you feel like going dancing in this great spot. You're sure to have the best time exploring the immediate area. If you're looking for a more casual way to spend your days, visit the beautiful gardens and museums of Balboa park!
This boutique hotel offers 30 unique guest room villas along the La Jolla coastline. They are proud to share their 'eclectic Polynesian charm' with guests from all over the country. While they offer classic suites, you also have the option of reserving an ocean-view studio with a private balcony and kitchenette. While days might be warm, there will always be an oceanfront breeze, so be sure to pack light sweaters if you feel like listening to the ocean and looking up at the stars on your private patio.
Walk along the sandy beach and watch the sunset or walk downtown for an evening of dining and shopping. The romantic seaside village of La Jolla has plenty to offer—but San Diego is just a short drive away if you're looking for even more fun and exciting adventures in Southern California!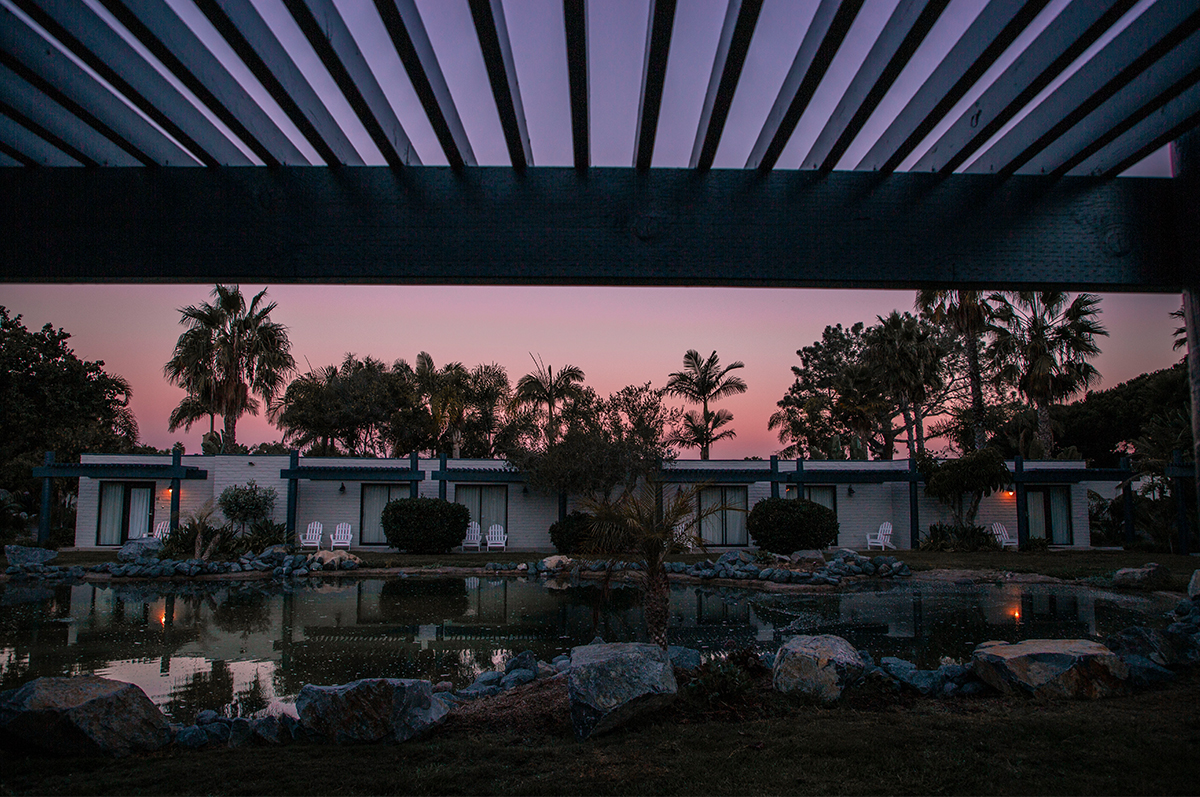 Paradise Point has a fascinating and romantic history that's star-studded and glamorous—but now it offers elegance as a one-of-a-kind escape with spectacular views overlooking the water, romantic bonfire opportunities, and so much more. They also offer five swimming pools, including one adults-only retreat, golf course, tennis courts, and fitness center, or rent beach cruisers to cruise along their 14-mile waterfront bike path!
You have the option to reserve a guest room, suits, and bungalows. They even offer accessible guest rooms for those that require special accommodations. Their interior decor offers a modern beach house theme. Be sure to request a bayside view if you like to look out on the water! Then, ensure you keep an eye on their event calendar, where you can find island yoga and meditation classes if you'd like to attend a soul-searching session side by side. This is the perfect place to escape the noise of everyday life. The resort has everything you need —you won't want to leave this therapeutic island resort!
Tower 23 is a modern boutique hotel along San Diego's oceanfront. It's named after the lifeguard tower 23 on Pacific Beach, within walking distance of the hotel. For the most unique ocean views, reserve an 'Oceanfront King' with your own private balcony. They offer a special package for couples that includes champagne and chocolate-dipped strawberries—and a box of other seductive surprises…
If you two love birds can manage to leave the beachfront, you can plan a trip to the nearby La Jolla coves and sea caves to explore marine life. La Jolla also has a variety of cafes and restaurants to consider as well. If you're looking to expand your options even more, Downtown San Diego is just a short drive away. For more ideas about what to do during your stay, be sure to check our Most Romantic Things to do in San Diego!
The Inn offers several room options varying in size—all with romantic fireplaces to cozy up next to. You can even request a room with an outdoor patio and fireplace. You won't even have to leave the premises to have a romantic evening with a relaxing glass of wine. If you don't feel like staying in your room, during the day, you can swim together in their heated saltwater pool and relax in the jacuzzi. Meanwhile, make reservations at night to dine at the Morada, a fine dining restaurant on-site, with cozy, romantic booth options, or dine under the stars!
Their 3000-square feet wellness sanctuary offers couples rooms with private patios with large windows, and a copper tub so you can have a rejuvenating and serene experience together. If you're an active couple, there are private tennis courts and a golf course on the premises for a fun option. When venturing out of the estate, you can kayak with the sea lion in La Jolla Cove, go horseback riding, or even go on a hot air balloon tour. When in San Diego, you won't be lacking in fun things to do in the area. There are plenty of things that both you and your partner can do together!
FAQs
What is the best time of year to visit San Diego for a romantic weekend?
San Diego is blessed with a pleasant climate throughout the year, but the best time for a romantic weekend would be between March and May or September and November when the weather is mild, and there are fewer crowds.
Is it necessary to rent a car for our romantic weekend in San Diego?
While public transportation is available, renting a car will give you the freedom to explore the city and its surroundings at your own pace. Parking can be limited in some areas, so plan accordingly. Alternatively, rideshare services like Uber and Lyft are readily available in the city.
How to get to San Diego
By Air: The most convenient way to reach San Diego for most travelers is by flying into San Diego International Airport (SAN). The airport is well-connected to numerous domestic and international destinations. Check for direct flights or connecting flights from your location.
By Car: San Diego is easily accessible by car via major highways. If you're driving from Los Angeles, take Interstate 5 South, which is approximately a 2-hour drive. From Las Vegas, take Interstate 15 South, which takes about 5-6 hours. Remember to factor in traffic and potential delays.
By Train: Amtrak operates the Pacific Surfliner train service, which connects San Diego to various cities along the California coast, including Los Angeles, Santa Barbara, and San Luis Obispo. The train ride offers beautiful coastal views and arrives at the Santa Fe Depot in downtown San Diego.
What are the top romantic attractions in San Diego?
Some top romantic attractions include strolling along the beautiful La Jolla Cove, enjoying a sunset at Sunset Cliffs, visiting the stunning Balboa Park, and taking a harbor cruise to admire the city skyline. And simply relaxing and taking in the iconic, beautiful beaches and tide pools of this popular destination.
Now that you've learned about several places to stay, which sounds most appealing to you? Let me know in the comments below!
For more ideas about what to do during your stay, be sure to check our Most Romantic Things to Do in San Diego!
More Romantic California Getaways