6 Most Romantic Hotels in Monterey
Monterey, California, is one of the most romantic places in the state, if not the country – and how better to complement a visit to such a romantic town than with a stay in one of the most romantic hotels in Monterey?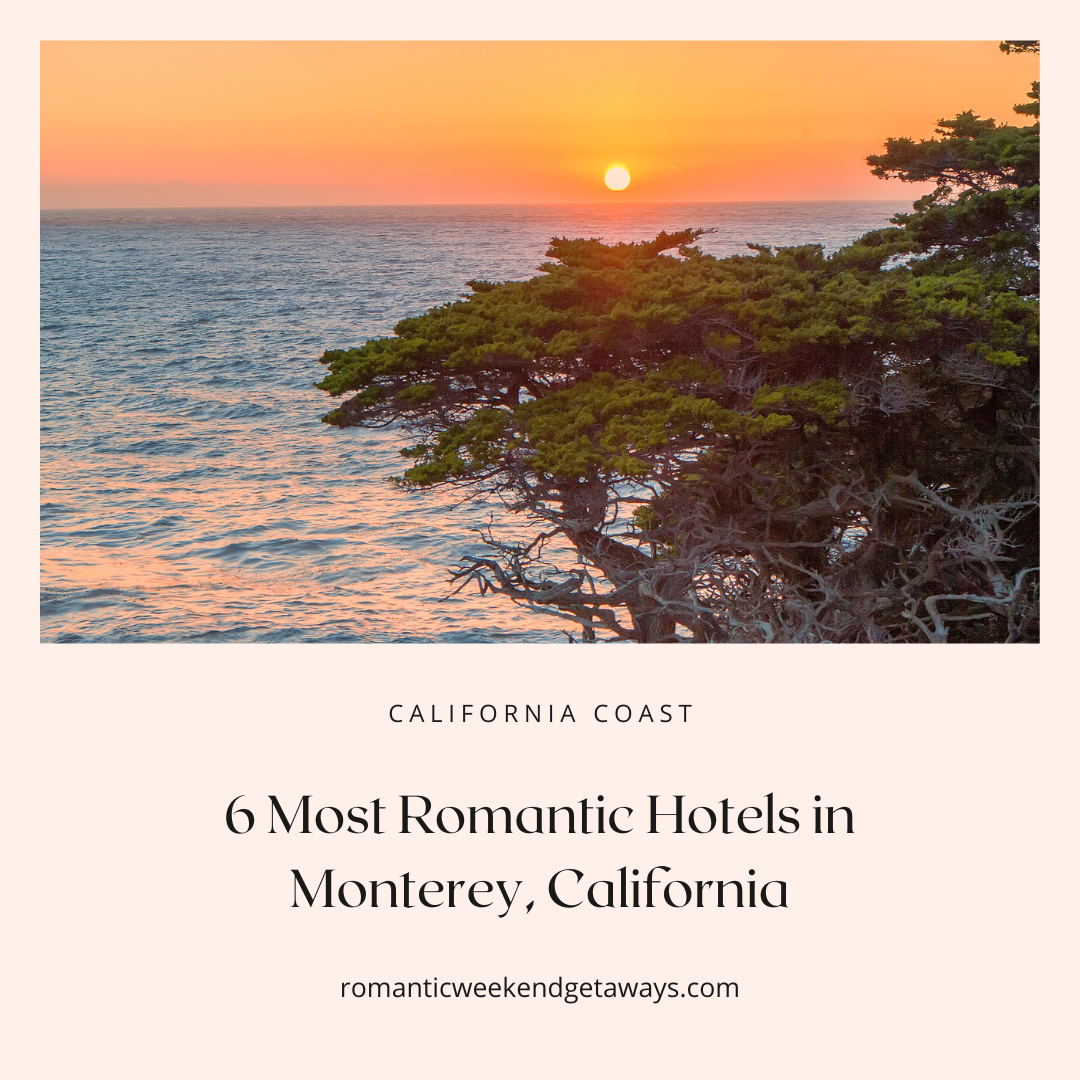 Jump to:
Located on California's central coast, just north of Carmel-By-The-Sea and about 75 miles south of San Jose, this city of around 30,000 people is also home to the famous Monterey Bay Aquarium, dramatic, rugged coastlines, delicious seafood dinners, great shops, and was the location of the fictional series Big Little Lies. Clearly, there will be much to see, do, and dream about during your getaway to Monterey – but where will you stay? Here are seven of the best romantic hotels in Monterey.
The best Hotels in Monterey for your romantic vacation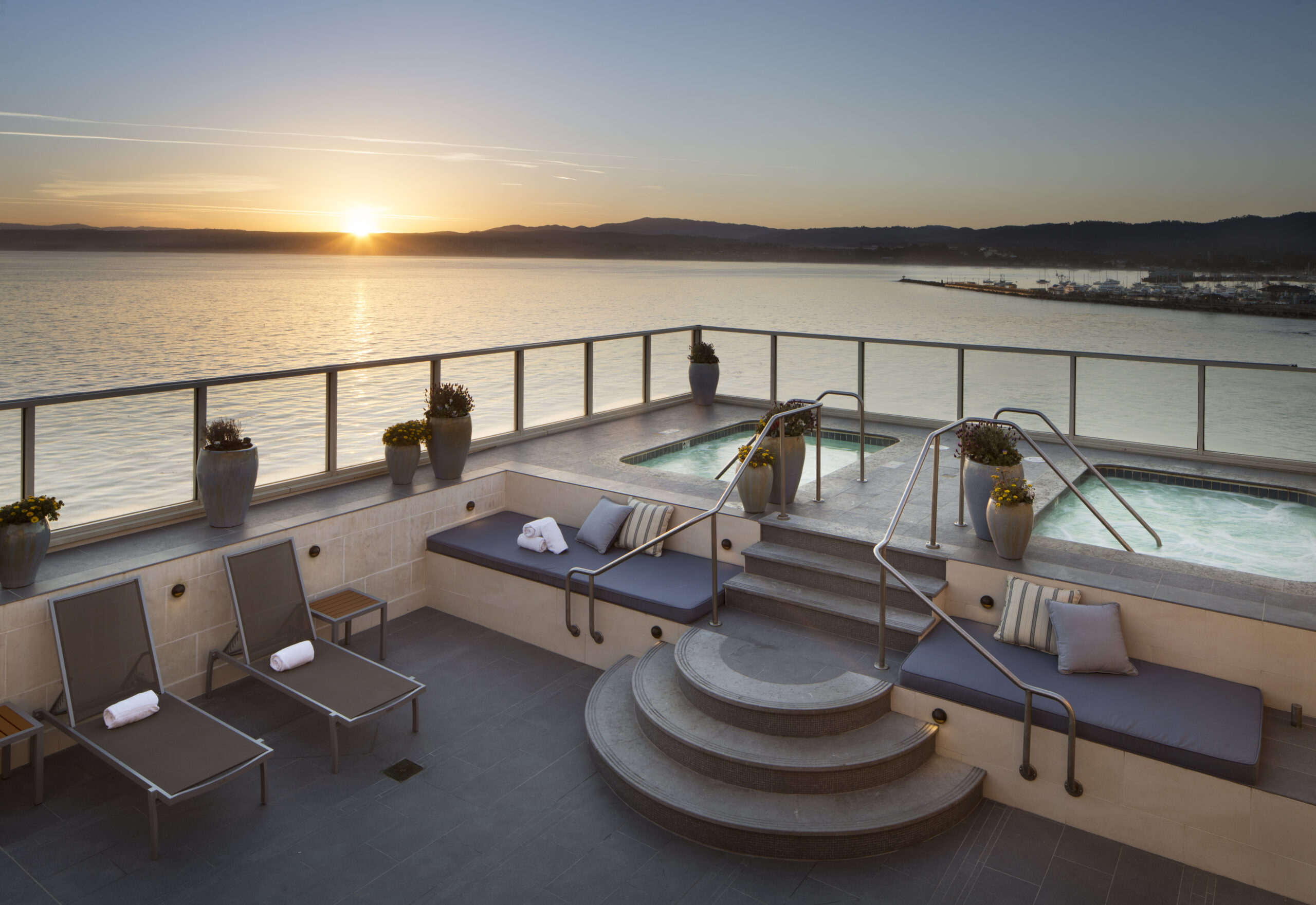 The four-star Monterey Plaza Hotel & Spa is a dramatic beach hotel in Monterey, located right on the water's edge, just steps from San Carlos Beach and not more than a ten-minute walk to the buzzy Cannery Row and all the shops and restaurants there. The property provides a spectacular luxury feel with impeccable hospitality and service from the attentive staff.
With a full-service spa on the premises as well as oceanfront dining options at the hotel's two restaurants, you will truly be pampered during your stay here. You can head up to the rooftop sundeck to look out over the crashing waves in the bay or book a room with your own private balcony and ocean views. There are also accessible rooms available as well as a variety of queen, king, and double rooms, plus luxurious suites.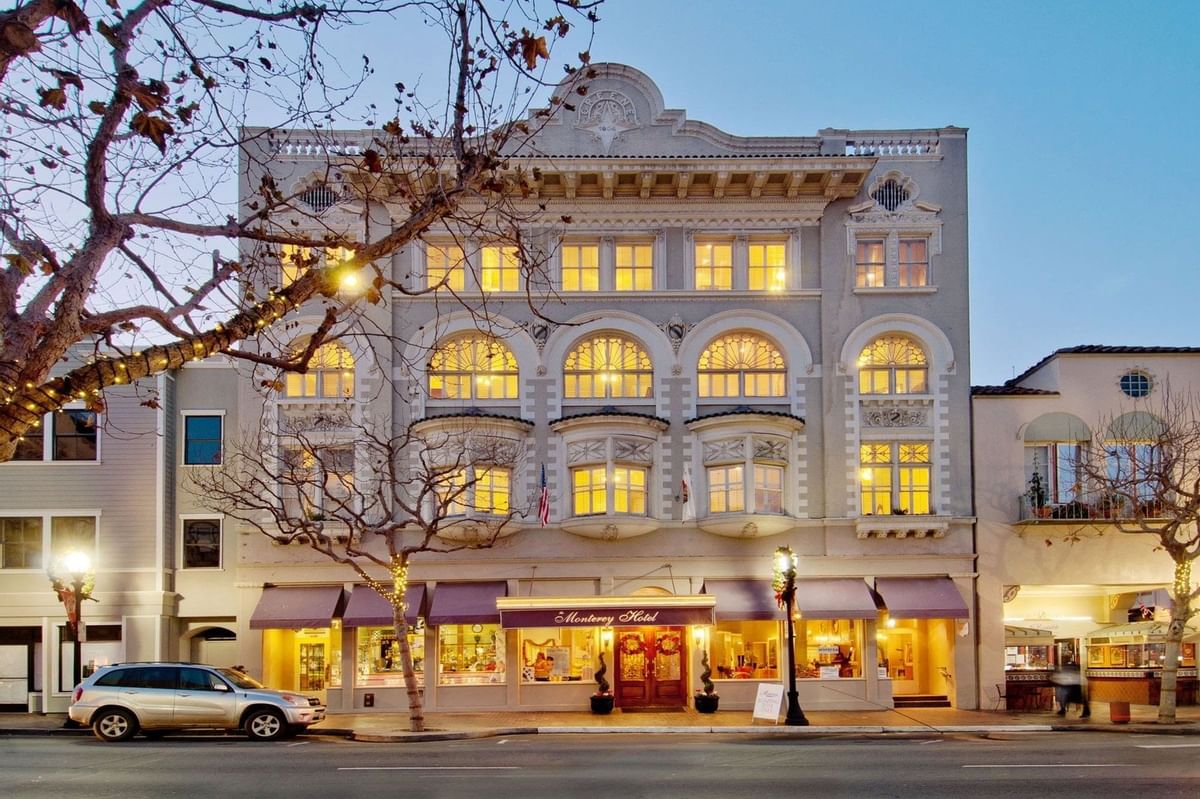 If you're looking for a boutique hotel in Monterey, The Monterey Hotel is the perfect pick. Located in the heart of downtown with a myriad of nightlife, shopping, and dining options nearby, you'll be spoiled for choice right out the door. Beyond eating, drinking, and shopping downtown, The Monterey Hotel is a 10-minute walk to the quiet Del Monte Beach and only 5-minutes to more shops and restaurants at Fisherman's Wharf.
The hotel was built in 1904 but also has a new and updated section. The old building features fascinating antiques but if you'd like a quieter and more up to date stay make sure to request a room in the new section. There are king and queen rooms as well as suites. The property has a fitness center, and if you're planning to bring your pet on your romantic Monterey getaway, The Monterey Hotel is also pet friendly.
If you're looking to head to one of these romantic hotels in Monterey, CA but have to bring the kids with you, the Monterey Bay Lodge is a good option for your getaway. The beautifully landscaped property with a heated pool and hot tub makes for a great relaxing environment for mom and dad while kids can enjoy the fountains or head across the street to El Estero, where there is a park and a pond with swan paddle boats. If you are headed for a romantic getaway without kids, the noise of families might make this property less than ideal for you.
It's also a pet friendly hotel, which is an added bonus if you're bringing the whole fam.
The 3-star hotel has 46 guest rooms – some of which have obstructed ocean views – and assigned private parking (a great bonus in Monterey!) it is not located directly in the downtown area, but with only a 15-minute walk, it's still very accessible.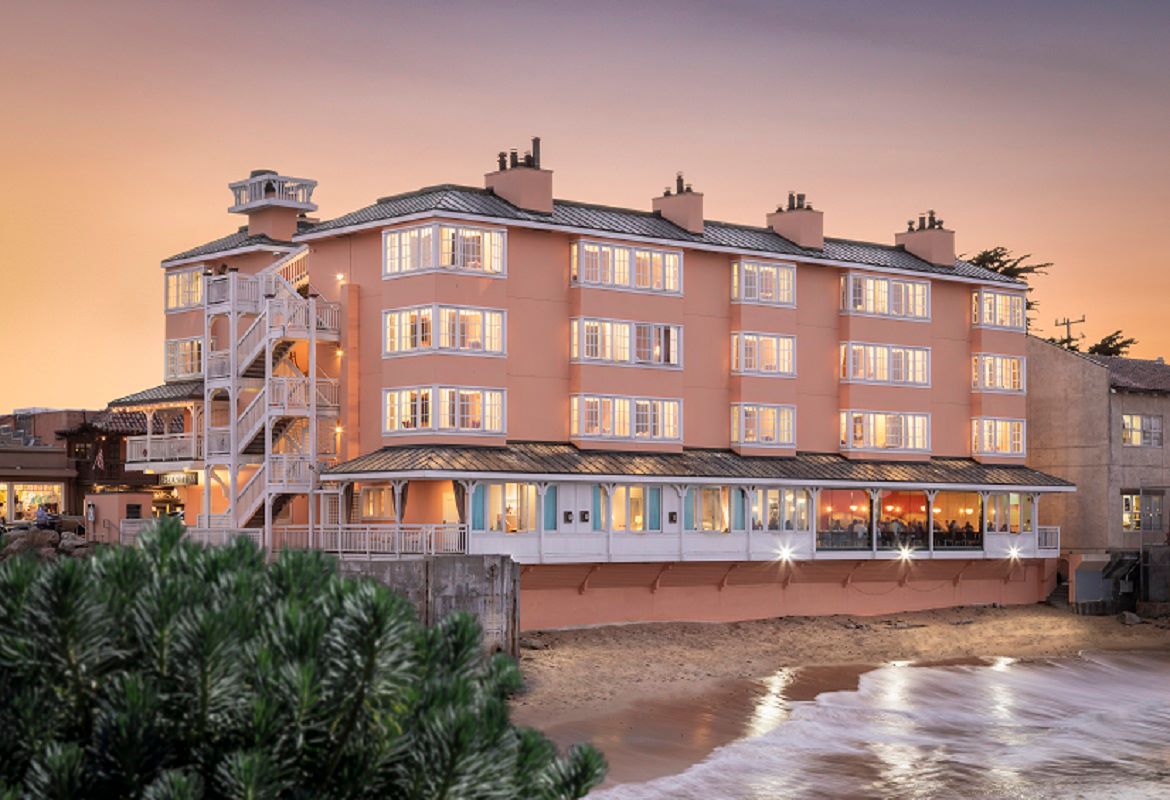 Spindrift Inn is one of the best hotels in Monterey, CA, with not only direct beach access and stunning waterfront views but also a location directly on Cannery Row. The hotel has 3.5 stars, but if you're looking to really splurge for your romantic vacation to Monterey, book the spectacular deluxe corner ocean view suite, open the windows, and listen to the waves crashing against the shore.
As well as suites, there are king and queen rooms available – some of which are accessible. There are 45 rooms in total and in each one you can enjoy a working fireplace. Every booking includes a complimentary continental breakfast delivered to your room each morning. And while no rooms have designated parking, there is valet service available 24 hours per day, so you don't have to worry about finding on-street parking.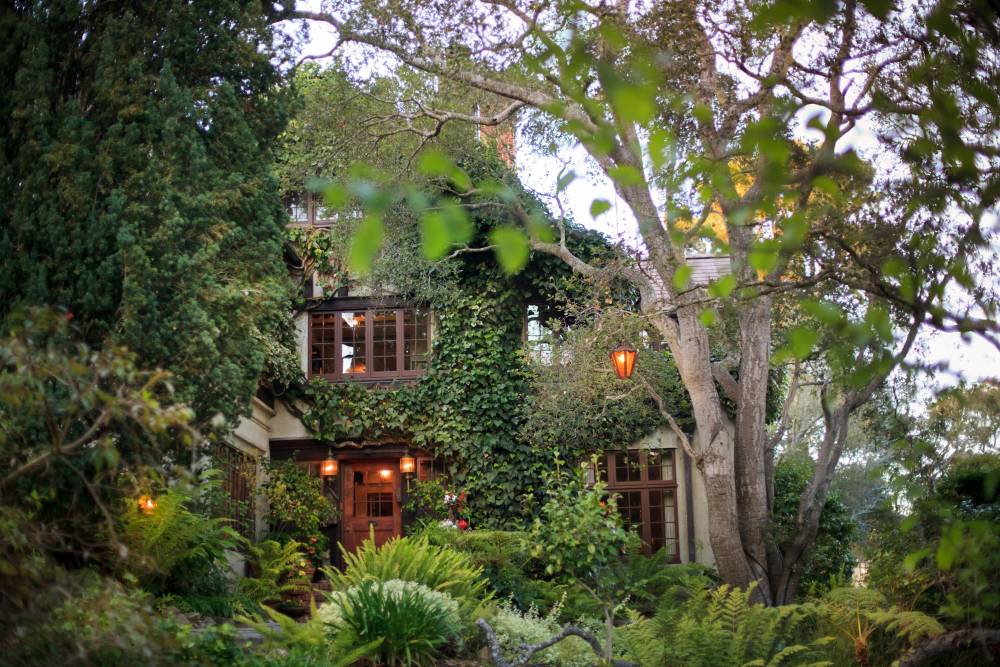 Old Monterey Inn is an absolute dream and easily one of the most romantic hotels in Monterey. The building is an old English Tudor mansion and it's surrounded by lush English gardens, which are reason enough to visit on their own. Since being converted into a 4-star bed and breakfast, the rooms have been transformed into suites and regular rooms. All with gas fireplaces and soaking tubs.
Breakfast is served each morning, and you have the option of getting it delivered to your room or eating in the large dining room. And any special dietary requests will gladly be catered to. At the end of the day, make sure to be around for the wine & cheese happy hour!
If you are in Monterey for a special occasion, make sure to let Wendy, the innkeeper, know, she and her staff will gladly decorate your room with rose petals and welcome you with complimentary chocolates for your special day.
Motel 6
Hear us out…. While Motel 6 might not be what immediately springs to mind as one of the most romantic hotels in Monterey, CA it is a great option if you are on a tighter budget but still want to enjoy the romance of Monterey and the surrounding area. And this Motel 6 is one of the better ones across the country.
While the rooms are small and basic, they are cheap and clean, and the property is easily accessible from the highway and close to the Monterey County Fairgrounds. Plus, you are still only a twenty-minute walk from Del Monte Beach and a ten-minute drive to Cannery Row and the Monterey Bay Aquarium. There's a pool at the hotel with tables and chairs on the surrounding deck, and the whole property is dog-friendly.
What to do in Monterey at night?
If you want to stay in Monterey at night, Del Monte Avenue is a great area with bars and lots going on. It is generally more popular amongst the younger, surfer crowd. A ghost tour of Old Monterey is another great option – frequent ghost sightings are reported! And finally, if you want to get out of Monterey for the evening, head over to Carmel-by-the-sea, a ten-minute drive, and pop into one of (or a few of) the wine bars there.
Where to eat in Monterey?
Eat like Guy Fieri at Monterey's Fish House and feast on fresh seafood (or steak) for lunch or dinner. Or if you're looking for something fancier, try the Michelin Guide's Montrio Bistro where you'll dine on fresh, local produce. Or stop by and hang out on the patio of Alvarado Street Brewery & Grill to grab a locally brewed beer and a pizza.
What are things you absolutely don't want to miss in Monterey?
Cannery Row is one of the main highlights of Monterey. And whether you want to just go for a stroll and soak in the atmosphere or get a massive ice cream sundae from Ghirardelli Ice Cream & Chocolate Shop and share it with the whole family, you'll find yourself with a packed day. Then head to the other main highlight of Monterey – The Monterey Bay Aquarium. There you can check out the penguins, the otters, the sharks. And be sure to coordinate your visit with an animal feeding. Another great romantic activity in Monterey is to head up to watch the sunset from Asilomar Conference Grounds which sits atop a hill and looks west.
When is the best time to visit Monterey?
The months of April & May are an excellent time to visit Monterey. The temperatures have started to warm up, but still aren't too hot and the crowds are still small.
What should you pack for a trip to Monterey?
Monterey's temperatures are always fluctuating and somewhat unpredictable. Even in the summer, you can find cooler weather, especially in the mornings. Make sure, no matter the season, to pack layers and a good, light jacket. Comfortable shoes are important as there's lots of walking to be done in the area. And if you're looking to fit in with the laid-back California style, pack a pair of white jeans (yes, no matter the time of year!).
How do you get to there?
Monterey Regional Airport is the nearest airport and is only a seven minute drive from town. If you'd like to explore the greater area, a rental car is an excellent idea. But you can reach Monterey by public transport, including from San Jose by bus, or by train – which runs from LA to Seattle – and calls at nearby Salinas (a 25 minute drive).
Monterey itself is romance encapsulated. And what better way to celebrate a birthday, an anniversary, a honeymoon, a weekend away, than with a visit to such a stunning, wild, majestic location? You're sure to love the atmosphere of the city – and your visit will only be elevated with a stay in of these best romantic hotels in Monterey.