6 Romantic Beachfront Hotels in Southern California
Southern California it's known for its idyllic weather, captivating Pacific coastline, cool nights, and beautiful beaches—making it the ultimate destination for a romantic getaway. If you're looking to wake up to beautiful ocean views and to be just steps away from the beach, there are several romantic beachfront hotels in So Cal to consider. From historic hotels to private balconies, prime locations, and relaxing ideal spots, these are the best beachfront hotels in Southern California.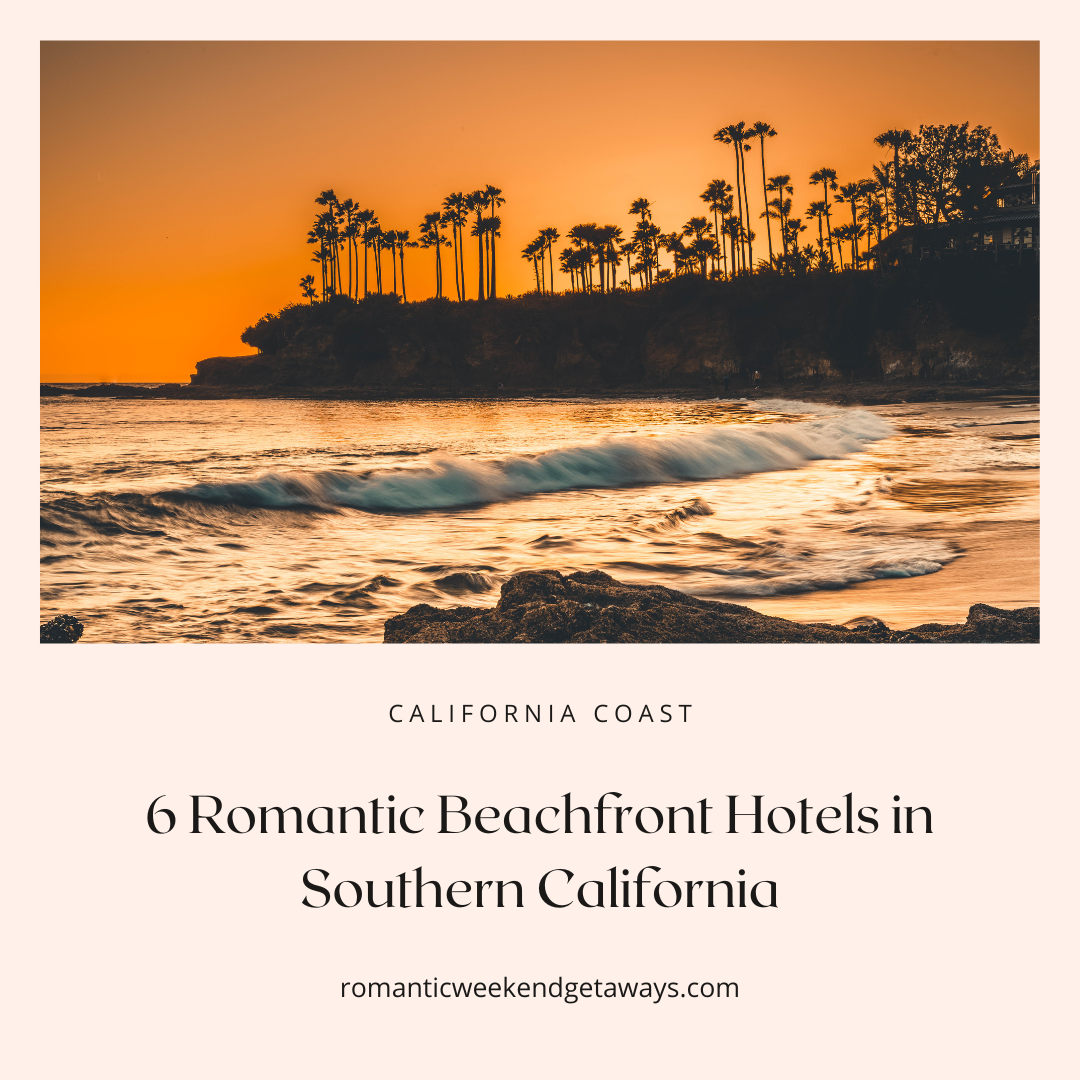 Best Beachfront Hotels in Southern California
Table of Contents 👇
When it comes to idyllic locations along the Pacific Coast, it's hard to go wrong. As the sun melts below the horizon painting the world in a soft orange glow, it's easy to fall in love with SoCal, making it one of our top destinations for a romantic getaway for couples. Here are a few of our top suggestions for hotels with crisp ocean views.
Not far from central Los Angeles, you will find several beach cities along the coast with hotels that overlook the pacific ocean. Shutters on The Beach in Santa Monica, CA calls itself a "seaside haven" and for good reason. The guest rooms themselves are designed to create a peaceful beach atmosphere—you won't feel like you're in a hotel room at all.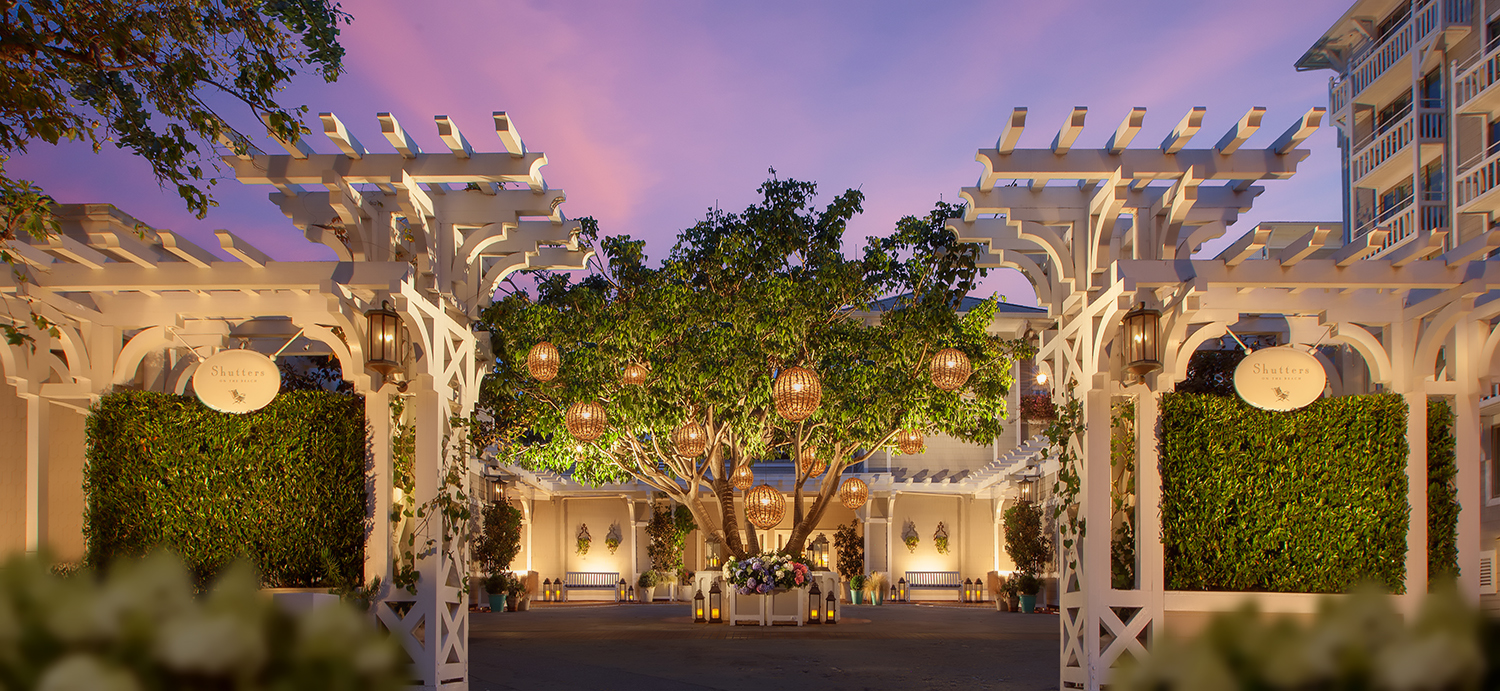 The attention to detail in the decor will have you feeling like you rented the best Airbnb beach house on the block! You can even book a picture-perfect picnic through the hotel, where they will provide you with low tables, blankets and pillows, and standing umbrellas to keep you cool on Santa Monica Beach. Don't feel like going to the beach? Relax by their outdoor pool in one of their private cabanas.
Santa Monica is a popular tourist spot known for the famous historic Santa Monica Pier often seen in film, television, and music videos. Along the pier you will find places to grab food, shop, play games, and even ride rides. The ferris wheel on the pier is the ultimate romantic experience, especially if you go as the sun sets. Cuddle up next to your partner and enjoy the gorgeous views looking out to the distant Catalina Island.
Despite the heavy foot traffic during the day, it can still be the perfect place for a romantic experience, especially at night. If you're looking to have a romantic dinner, you won't be short of dining options, with a variety of restaurants within walking distance. You can even Uber into Venice and explore the many restaurant options along the popular Abbot Kinney Blvd. However, this location does offer its hotel guests a restaurant dining experience with an ocean view!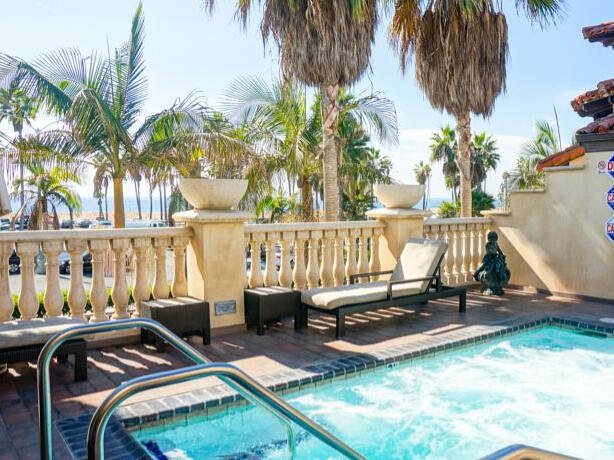 Off the Pacific Coast Highway, Balboa Inn is located on the Balboa Peninsula of Newport Beach, California. It was built in 1929 and is a classic staple to the area. This is a prime vacation spot along the water, steps away from both the sand and Balboa Pier, if you're interested in a romantic night walk along the water.
This is the perfect romantic getaway if you love to get out and explore. Adventurous couples will love the bike path that one can ride along. It will take you from the Balboa Pier to the Newport Pier. Plenty of local bars, restaurants, and little shops to explore. You might even consider going whale watching! Tired after a long day of exploring? Relax in their new hot tub that they've included after recent renovations!
While there is tourist traffic in the summer, it won't be nearly as busy as Santa Monica. Visiting before or after summer, you will still be able to experience all the perks but without the tourists. While the rooms at Balboa Inn may appear small on their website, and they may just be, that just means getting even comfier and cozier with your loved one in a cozy atmosphere.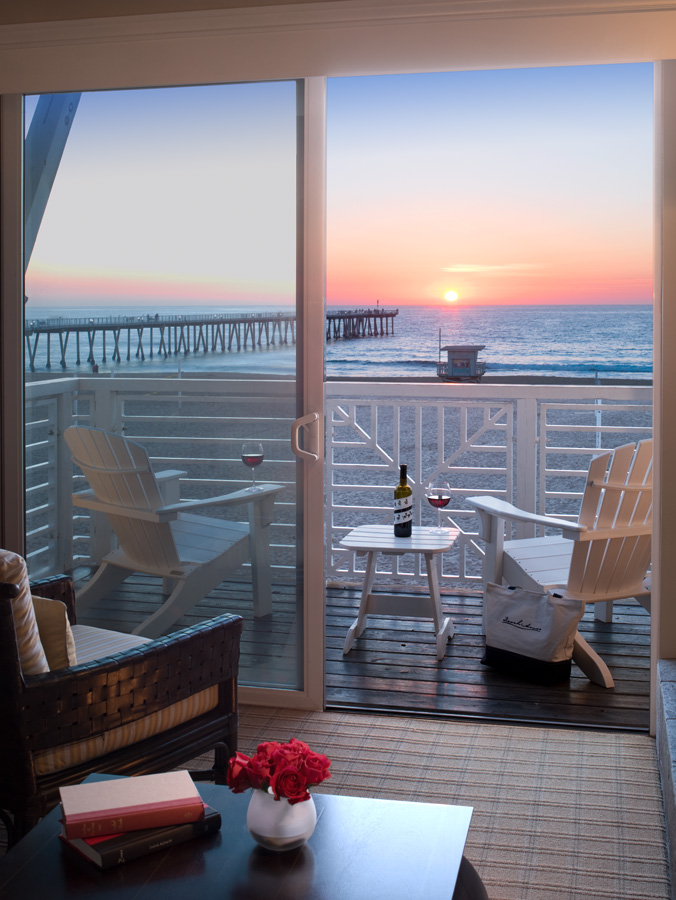 The Beach House sits quaint along the beautiful sands of Hermosa Beach. It's called The Beach House because each room's accommodations will have you feeling as though you rented your own little beach house right along the water in this quaint boutique hotel. They offer several room options, such as an oceanfront room, an ocean view room, or if that doesn't matter at all, they have options for that too!
Hermosa is located between two other popular beach cities, Manhattan Beach and Redondo. So it's a great place if you're interested in exploring multiple beaches all within a short walk or drive and local fine dining options. It's also close enough to Los Angeles should you want to explore nightlife there and go to a comedy club or concert. The J. Paul Getty Museum is also nearby if you're keen on appreciating art and want to get out of the sun for a little while.
Or, if planning ahead, consider looking to see what's playing at the Pantages theatre. They bring Broadway shows and production quality to an immaculate theatre right in the center of Hollywood. We've seen several shows there, and they never disappoint.
Hermosa Beach is another sunny prime location with a gorgeous bike path along the sand and a pier to walk along the water. Adventurous couples will love that they offer volleyball nets if you'd like to have fun tossing a ball around on the sand. However, if you're not one to partake in physical activities such as these, the hotel offers spa services and a treatment room where you can get a couple's massage, facials, and other body treatments.
Between that and exploring all of the many dining options within the vicinity, you'll be plenty busy. Who knows, maybe you won't even make it out of the room with such stunning views to keep you occupied. Enjoy a glass of wine on your personal balcony and watch the sunset!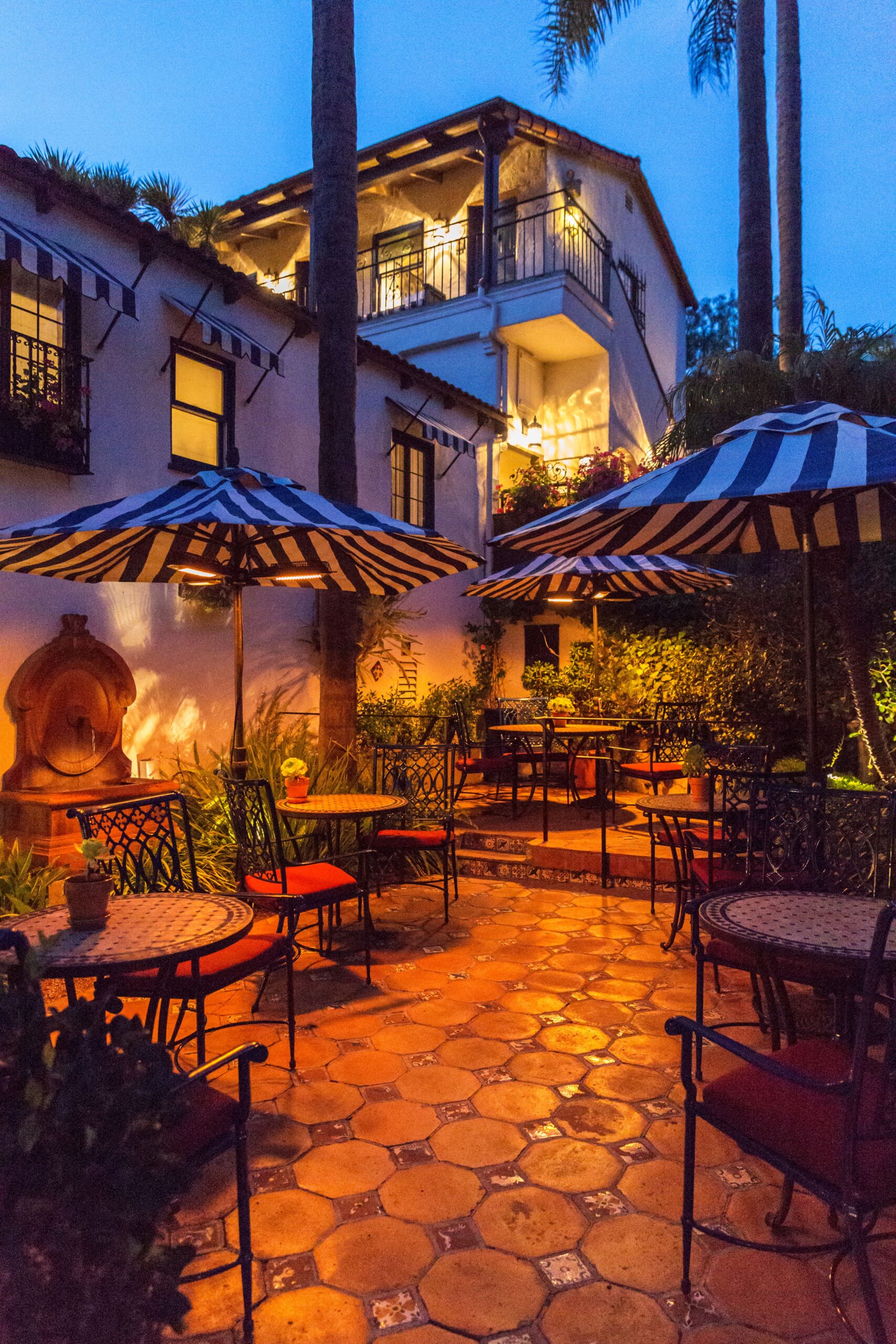 Casa Laguna's website proudly proclaims it's a "castle-like seaside enclave of historical buildings that dates back to the early 1900s." The Spanish deco architecture alone is undeniably romantic for this beautiful hotel. If you want a room with an ocean view and a patio to enjoy your morning coffee on, Casa Laguna is on the pricier end of the spectrum but well worth it and feels like a true luxury resort.
Located in the beautiful Orange County, an ideal spot near Laguna Niguel and Dana Point, you won't be short of beautiful views of the Pacific Ocean, shopping options, and dining experiences. Laguna is also known for its festival or arts—so don't forget to look at featured events that are up and coming before you come on down! Whether you're interested in doing a little wine tasting at the local Wine Gallery, enjoy an evening on a rooftop lounge, or see a production at the Laguna Playhouse—you won't be short of romantic options to explore.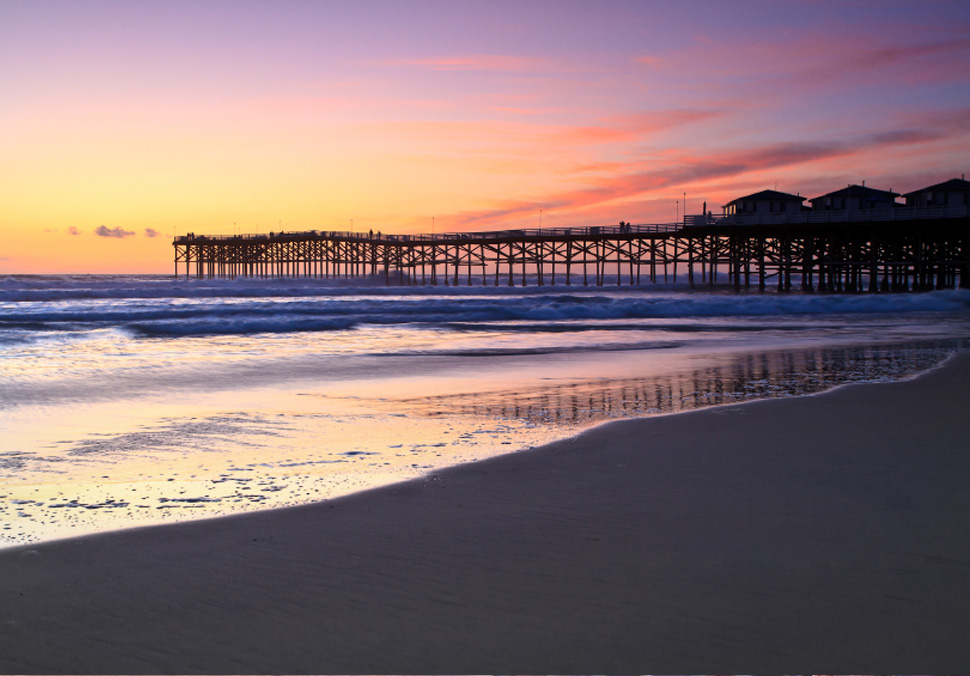 Crystal Pier Cottages, built in 1930, offers beautiful beach cottages along a pier over the water. You can rent a simple studio cottage, a one bedroom, or two—all come with a kitchen and deck to enjoy the ocean view. What's more romantic than enjoying a nice evening watching the sunset over the ocean on your own personal patio?
If you're excited about nightlife, visit Downtown San Diego for an optimal shopping and dining experience. Many places offer live music to enjoy as well. If you're looking for an exciting day away from the beach, consider visiting Balboa Park. Balboa Park offers various museums, gorgeous gardens, and even the San Diego Zoo!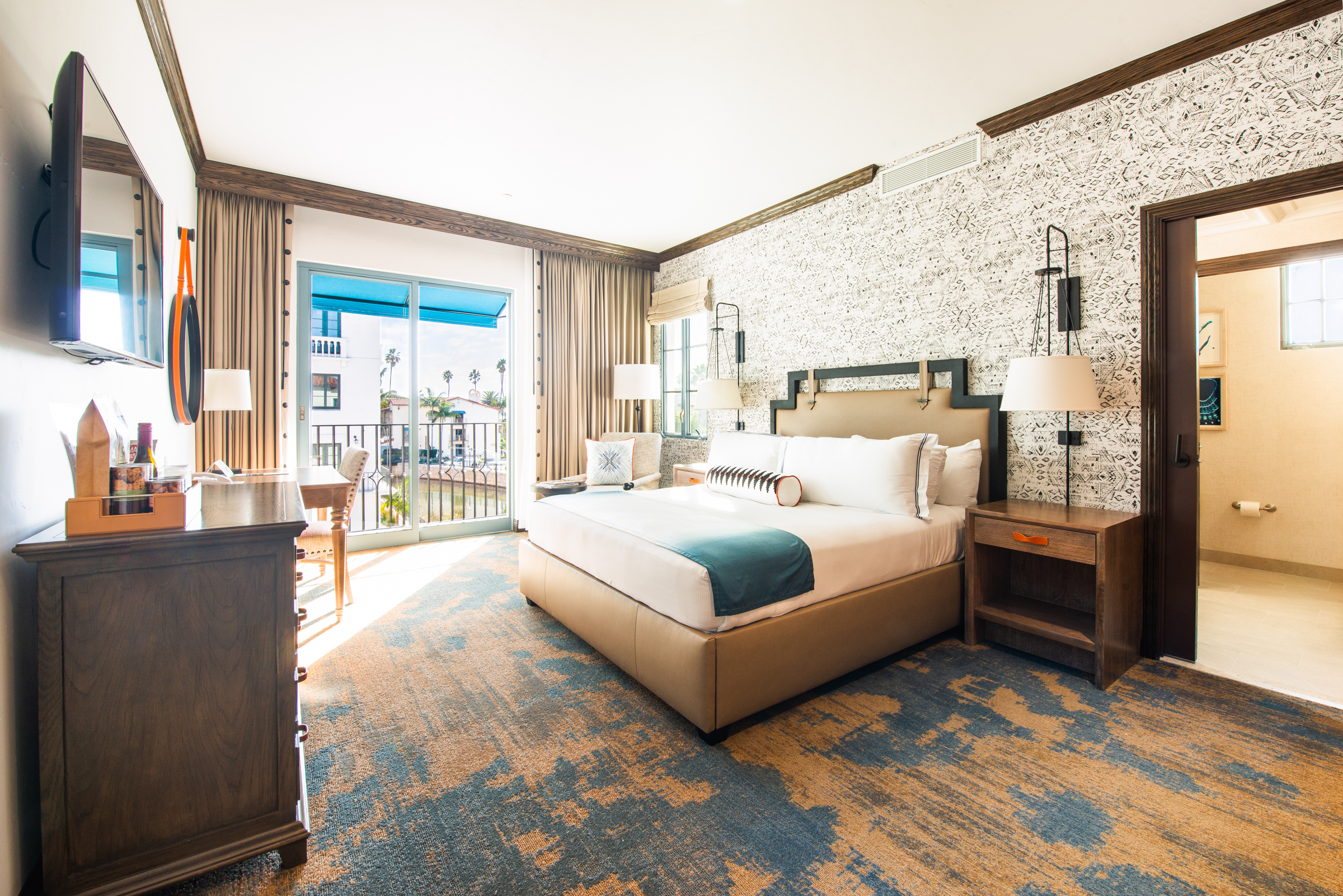 Harbor View Inn offers just that—a delightful harbor view! Sit poolside and relax at the hotel's private pool area and order from the poolside bar—or simply go to the beach just a few more steps away. There's a pier you can stroll along as well. If you're seeking to branch out and explore more of Santa Barbara, the famous Santa Barbara Mission is a popular historical landmark to explore. You can also book a wine tour or two at one of several locations nearby.
One of the great things about Harbor View is that they proudly offer mobility accessible rooms as well. This includes lower beds, a shower and tub with rails, a door chime/light strobe, and more. Otherwise, the rooms are rather simple but offer complimentary wifi as well as HD channels to enjoy. You'll likely want to spend more time out exploring than staying in anyway!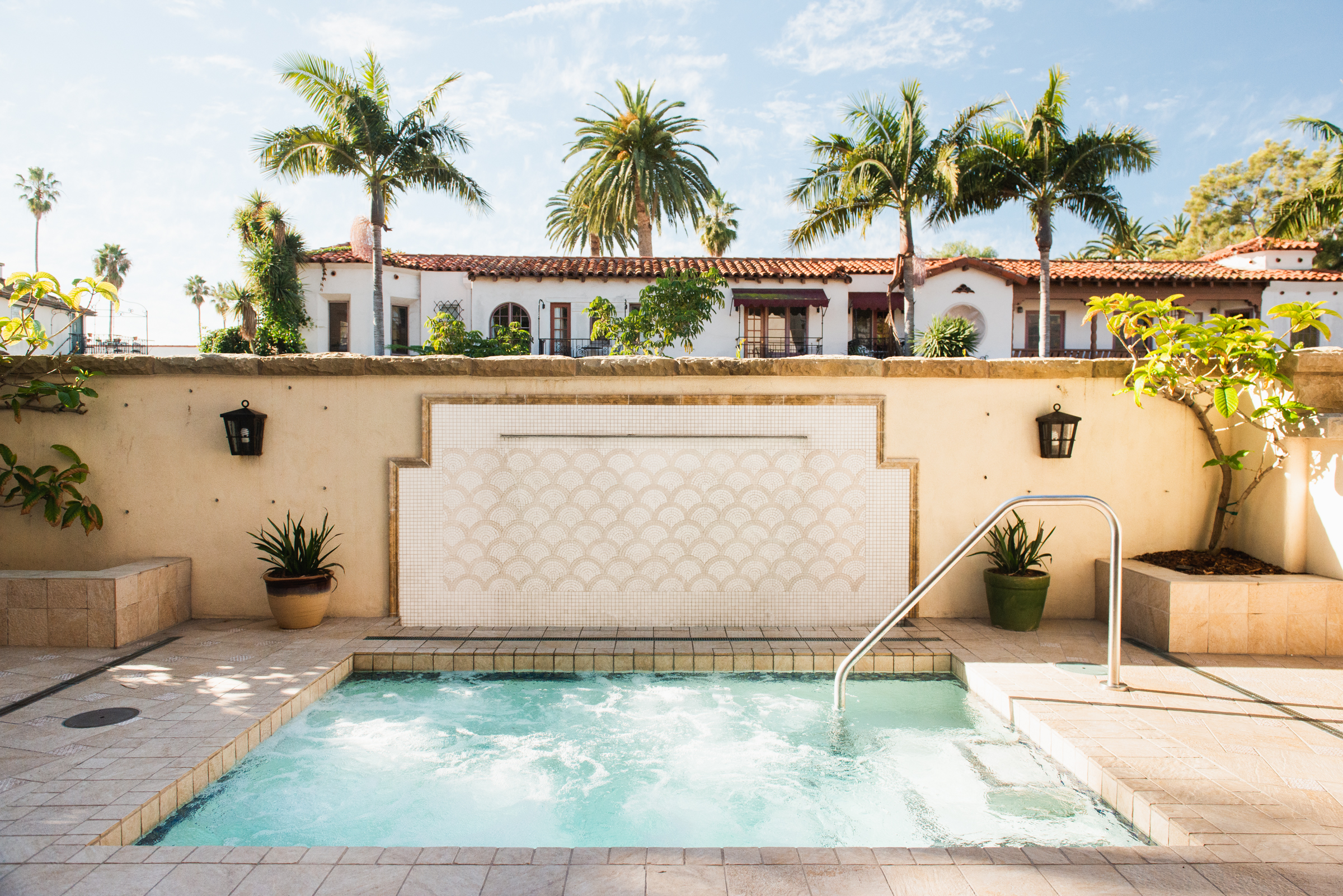 As you can see, they don't call the west coast the best coast for nothing! It's truly the perfect place for a romantic and memorable beach vacation getaway. Spending quality time with your loved one can be nice anywhere—but why not treat yourselves to the best California cuisine, fun, sandy beaches, miles of coastline, and relaxing ocean views along the sunny Southern California coast! So, now the question is, where will you be going for your romantic weekend getaway?